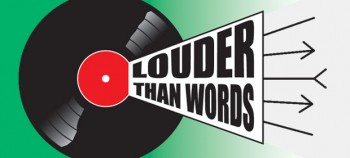 As long as people have made music, others have sought to write about it, to capture its magic in words.  Words and beats, language and melody, enjoying a sensual, symbiotic relationship.  Sometimes melodic, at others dissonant this is the very relationship that will be explored at the inaugural Louder Than Words Festival in Manchester, this November 15-17.
This is the first Festival of its kind, a very special weekend that will be of interest to anyone who loves the melodies of music and the written word, and might relish the chance to talk that over with like-minded souls.  And how apt that this first occasion should take place in Manchester, always a fundamentally important intersection of the musical and the literary.  John Robb, a key Manchester music writer and one of the event organisers, comments "Louder Than Words brings you inside stories, insights and new angles from people who really know what they're talking, reading and writing about.  A brilliant weekend for those in the know and who want to know more…"
Events will include panel discussions on subjects such as club culture writing, conversations with key industry characters, interviews and workshops.  Performances will include one of only a handful of performances of John Peel's Shed (John Osborne's critically acclaimed solo show, famed at Glastonbury and the Edinburgh Festival).
Whether the lyrical content within the music itself, or the critical opinions of music journalists; whether novelists detailing nefarious stories of the nightclub or contemporary bloggers and music aficionados, this is truly one of the most powerful relationships in culture.  Our love for words, for music, and for the way words are used to describe music endures.  The medium may change, the dead tree may turn digital, but that essential passion remains.  So keep your quills charged and your feet tapping, and we look forward to hearing your own voice, at Louder Than Words…
The weekend kicks off on the Friday night with a launch party and festival event, culminating in John Robb's Late Night Music Quiz. Louder Than Words will then carry through the weekend, with all events taking place within the elegant, historic Palace Hotel in central Manchester;
Over the course of this weekend, a truly engaging, high-quality programme of events has been structured to explore this terrain.  Initial highlights include Mark Radcliffe  exploring his well-known passion for music and the north of England, and critics and commentators such as Barney Hosykns (Rock's Backpages), Zoe Howe (author of books including The Slits and The Jesus and Mary Chain), Clinton Heylin (one of the world's foremost Bob Dylan experts) and Mick Middles (author of 23 music books), all on hand to offer their own opinions about music writing, journalism and the music industry.  Silent Radio's very own Simon A Morrison will also be speaking at the event which adds even more importance!
The event is held at The Palace Hotel, Oxford Road, Manchester, M60 7HA.