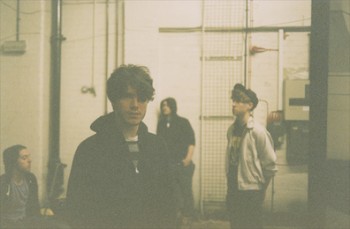 'Edward The Confessor'/'Kensington System' is the debut AA single from art pop sonic and visual experimentalists Breton. Both tracks demonstrate the band's sound, mixing up different musical genres with a load of attitude. Produced by BretonLABS, the tracks were recorded at Sigur Ros' Sundlaughin studio in Iceland and mixed at the band's base in Kennington, The Lab, a converted bank turned creative HQ. 'Edward The Confessor' will also feature on Breton's forthcoming album, 'Other People's Problems', due for release in February 2012.
BretonLABS have also delivered remixes for Local Natives, Tricky, Maps & Atlases, Tom Vek, Chapel Club and Temper Trap and made videos for Penguin Prison, 80's Matchbox B-Line Disaster and Flats.
Breton's live shows are more of a sensory experience with the band playing bass, guitars, drums, synths and samplers shrouded in black hoods and set against a backdrop of self shot movies, cut and edited in real time by their VJ. Having recently supported Tom Vek on his sold out comeback UK tour, Breton have just announced a support tour with Mercury nominated Ghostpoet.
Tour Dates:
22nd September: Arts Institute – Cardiff
30th September: O2 Academy 2 – Oxford
1st October: Start The Bus – Bristol
4th October: O2 Academy 3 – Birmingham
6th October: The Registry – Portsmouth
7th October: Rescue Rooms – Nottingham
8th October: The Harley – Sheffield
9th October: Deaf Institute – Manchester
10th October: Digital – Brighton
11th October: Leeds University Union – Leeds
12th October: The Duchess – York
13th October: Scala – London
Breton will also be playing the following festivals:
21st October – SWN festival, Cardiff
11th November – London Calling, Paradiso, Amsterdam
2nd December – Trans Musicales. Rennes, France