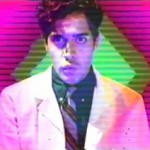 Having teamed up with Austin-based company Bleep Labs, Neon Indian brings you the PAL198X, his very own mini analog synthesiser. If that's not enough, he has just announced his biggest London show to date and will be playing Heaven on Wednesday, November 16th.
Whizz kid Alan Palomo has put together this tongue-in-cheek, retro video or "synthfomercial" called 'Step Into the World With Your PAL198X' demonstrating the musical potential that this small device has and revealing him to be a budding TV presenter as well as a musician and inventor, should 'Tomorrow's World' ever return to our screens.
Step into the world of Palomo and his scientist alter-ego, as he takes you on a bizarre journey through synthesised sounds, showing exactly how the PAL198X can manipulate its surroundings to create a variety of obscure and fascinating noises.
"We teamed up with our brethren homies in Austin, Bleep Labs, to proudly bring you the PAL 198X. It's a triple triangle-wave oscillator noisemaking device with interchangeable controls for maximal sonic contortion. You can attach knobs, light-reactive photocells, and a variety of other devices for semi-modular capabilities. It can interact with a variety of objects around your house whether electronic in nature or not. It can even interact with your pet. It does not make the same sound twice. Basically, I want you to hack this fucking thing."
The PAL198X will be available to those who purchase the deluxe edition of 'Era Extrana', Neon Indian's second album, out October 10th through Transgressive Records.