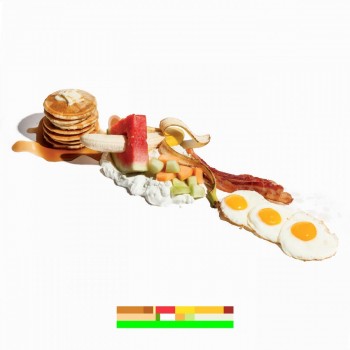 La Di Da Di is an interesting choice of name for Battles' third album. Where Mirrored had those weird, indecipherable, pitch-shifted syllables and Gloss Drop had fairly traditional guest vocalists, La Di Da Di is wholly instrumental and all the better for it. If anything the vocals were distracting on Gloss Drop. This record feels like it all makes more sense as a whole. It's as if they've boiled down the respective elements that make up the Battles sound to come up with its very essence. Everything's here, but more concentrated than before: those shifting time signatures that make them exhausting to dance to ('Summer Simmer'), those throbbing basslines ('Dot Net'), those ice cream van chiming guitars that defined, err, 'Ice Cream' ('Luu Le').
It's perhaps telling that the two tracks which sound least like they could have been on a previous record are the first up. 'The Yabba' is an exercise in rhythmic noise until it comes to a false ending, only to build back into layers and layers of shimmering sound. It's such detailed, dense music. Which makes it all the more interesting that 'Dot Net' effectively consists of just a glistening bassline, which on previous albums might have been stretched to six minutes but is over in half that time. It's a perfect distillation, just beats, bass and a patchwork of shimmering electronics squiggling away in the background. It's so tight and lean, it's practically 'We Are Your Friends' (the Justice vs Simian stomper, not the Zac Efron stumper).
The centrepiece, both contextually and metaphorically, is 'Non-Violence'. It's your classic 'Atlas'-style slow builder, but where Atlas teases, prodding and suggesting the route ahead, 'Non-Violence' gets straight to the point with a laser guided melody. It's pummelled into shape by some chopping bass stabs, peaks with a soaring synth line in the middle eight, and deserves to be laying waste to dancefloors. It's this newfound focus which defines La Di Da Di, the crescendos coming thick and fast where previously the joy was to be found in the build-up. That techno-influenced repetition, with enough of a shift in texture every four bars or so that Battles do so well, is best illustrated with 'Dot Com', which grows from being barely there for the first minute to sounding like a dot matrix printer having a breakdown and fading into chirruping ambience. Even when their jazzier tendencies get the better of them on the likes of 'Megatouch', it's brought back with the super-tight minute-and-a-half-long 'Flora > Fauna', which segues straight into closer, 'Luu Le', twisting from one time signature to the next.
La Di Da Di sees to it that Battles could go anywhere on their next album. It could be a shapeshifting jazz-noise odyssey, it could be full of spray-on-tight floorfillers. One thing's for sure, this is Battles' finest album so far.
Release Date 18/09/2015 (Warp)
Battles Official | Facebook | Twitter | Soundcloud