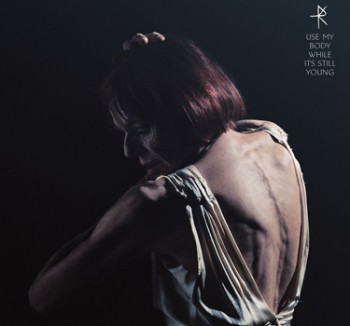 Rebekka Karijord has crafted a record of unforgettable, eerie magic as epic yet peaceful as the Northern Norwegian landscape into which she was born with new album, 'We Become Ourselves'.
We Become Ourselves's centrepiece, the first single 'Use My Body While It's Still Young' is a song built upon a bedrock of vast, tribal drums. Karijord's vocals are potent and unafraid to display a subtle, bewildering vulnerability in both her delivery and lyrics. Its video is equally impressive, the polarity within the track reflected by the presence of Siv Ander, a 75 year old ballet dancer capable of expressing both power and fragility at once. Also featured is the organ that dominates the album's cover, built by Swedish artist and designer Gustaf Von Arbin.
"For me, the organ is a metaphor for the heart," Karijord reveals. "Gustaf built it with branches, exhaust pipes and such. I feel it symbolises the romantic side of the record as well as the presence of nature in the lyrics." These are qualities found in abundance throughout a record that hints at a wide range of influences that include the likes of Cat Power, PJ Harvey, Buffy Sainte-Marie, Moondog, Robert Wyatt and, indeed, a significant amount of instrumental music that most likely accounts for the imaginative arrangements.
'Prayer' is a stripped back affair slowly developing through the understated employment of a male choir who reappear on the growling 'Save Yourself', which also features a boys choir as moving as that found on Talk Talk's remarkable 'I Believe In You'. 'Multicolored Hummingbird''s delicate, nimble nature belies a melody that lingers long and heavy, while 'You Make Me Real' is so gentle as to barely exist. 'Oh, Brother', meanwhile, is a sensitive lament that aches with both sadness and optimism and the title track, 'We Become Ourselves', is distinguished by harmonies as imaginative as those found on Sinead O'Connor's debut, The Lion And The Cobra.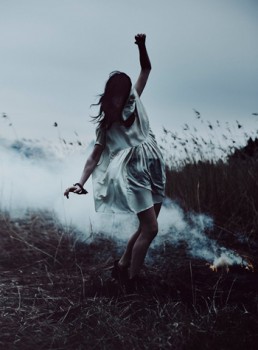 Conceived as the first part of "a double album project about femininity and masculinity, love, sexuality and the fleetingness of human nature", the album was originally tracked in summer 2011 on a small farm in the Swedish countryside. But, after six weeks, Karijord recognised that something wasn't working and, following three further weeks of sleepless contemplation, she conceded that, "the songs were not fully developed. I guess I tried to challenge myself in the studio, which was stupid, since I really need to be alone when I write."
Nevertheless, the results of the second round of sessions, recorded with Tobias Froberg at Stockholm's Gig Studio, were genuinely exceptional and filled with organs, boys and men's choirs, piano, guitar, drums and Karijord's fierce, striking vocal delivery. "I wanted to make a love album first, circling around my relationship to men," she explains. "I wanted it to be a romantic, huge, physical and powerful record, yet stripped and raw, with its flaws on its sleeve. I wanted to make an album about 'life and death': heartfelt and serious."
Surprisingly, its initial framework was constructed with only a drummer and guitarist, ensuring that – beneath these imposing arrangements – the songs remained simple. "My challenge is always to dare to hold back, and to find the right balance to communicate the song's essence. I record layer upon layer and then peel away most of it before mixing. I also recorded a real organ in a church in Norway, and a lot of the dark sub-frequencies you hear are foot pedals, the darkest notes on that organ. I absolutely adore that organic bass sound."
As for what lies ahead, Karijord talks of shows that she hopes will recreate "the hugeness and intimacy that I feel the album has."
If "romantic, huge, physical and powerful, yet stripped and raw" were Karijord's goals, then she has more than surpassed them.
'We Become Ourselves' will be released on October 29th through Freak Kitten