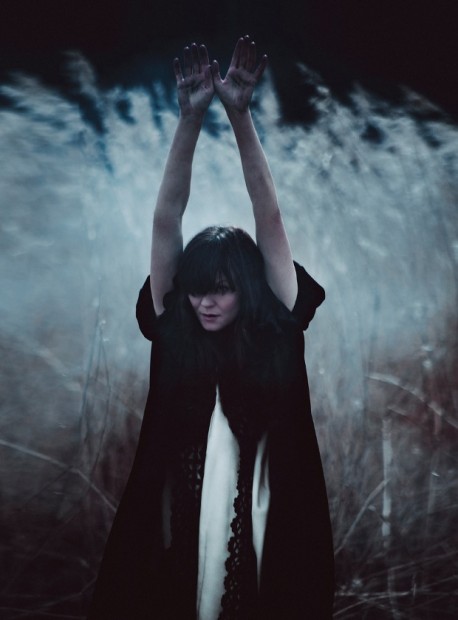 The story that leads to REBEKKA KARIJORD's stunning new album, WE BECOME OURSELVES, actually starts many, many years ago. That it begins with her parents is not especially unusual, but few musical journeys commence in such a poignant fashion. She was born in Sandnessjøen, just south of the Arctic Circle in Northern Norway, to two teenage sweethearts who had spent much of their early years together travelling Europe in a Volkswagen bus, her father busking, her mother selling the beaded bracelets she made. KARIJORD's relationship with her father was cut short, however, after her parents separated when she was three. Such shocking events inevitably scar the lives of young children, it goes without saying, and often provide inspiration later in life for the kind of soul-searching that inspires creativity. But, for KARIJORD, this traumatic experience was to pave a path towards her own artistic expression in a much more extraordinary way.
"My dad developed a heavy drug addiction which lasted for 25 years," she explains, "while I grew up with a healthy and strong but very young mother. I had sporadic contact with my dad during my childhood, and missed him a whole lot: he was a musician, which I wanted to be, and I looked a whole lot like him. But I guess my relationship to him was coloured by expectations and disappointments, so we drifted apart. Then, when I was maybe thirteen, I found a notebook in the attic with my father's handwriting. It contained his songs, sketches and poems he had written when I was a baby. A lot of the songs were written for my mum and me."
Filled with an increasing determination to see him, KARIJORD still had to wait before mother finally allowed her to travel from their new home in Nesodden, a peninsula in the archipelago outside Oslo, to reunite with her father in Bergen on Norway's west coast. It was a bittersweet experience, to say the least.
"The meeting was very sad and painful," she recalls. "He was extremely sick back then, and I saw things a young teenager should not see. But he was profoundly happy to see me and, lacking other things to give me, he handed me two big plastic bags with all his lyrics. I went home with this treasure, locked it into my room and started a long process of reading that lasted many years. In there was documentation of his love for my mum and me. I got to know him through his lyrics, and a correspondence started where we sent each other tapes and songs. I started to write melodies to his lyrics, and, finally, I wrote my own songs and recorded my own demos."
Some twenty years after discovering the hoard of lyrics, KARIJORD is still writing, recording and performing music, and her latest album, WE BECOME OURSELVES, is arguably the finest of her career to date. From the disembodied, ghostly voice that opens the album to the haunting piano line with which it ends, it tugs forcibly at the heartstrings, its songs packed with a unique and astonishing mix of tenderness, joy, heartache and drama that reflects her childhood story.
KARIJORD began playing music at an early age, her experiments with piano and violin later influenced by the diverse tastes of her mother – which included strong female figures like Janis Joplin, Patti Smith and Sheila Chandra – and her father, who favoured the likes of Neil Young and The Rolling Stones. By the age of 14, she was demoing material in a local studio where she had begun to learn the principles of engineering, and three years later she signed recording and publishing deals with a major label. Sadly this turned out to be an ill-fated, albeit beneficial, decision.
"They had great plans," KARIJORD concedes. "But I couldn't deliver the pop songs they wanted. My pre-production recordings were way too weird and complicated. Luckily I had the courage to walk away from the deal. I think I knew that I needed time to develop at my own pace. I like being on the outside, where I have the liberty to do my own thing, and it has taken me time to refine and develop my expression, to dare to be honest enough. I was definitely not ready when I was 17."
It took KARIJORD another ten years to release her first record. Having first attempted a formal music education in Oslo, she moved to Stockholm at the turn of the millennium to study acting but, though she continued to work on stage and screen after her debut album's appearance, music took up more and more of her time. In fact, her thespian training was arguably more significant in that it provided her with the foundation to compose music for what now amounts to over 30 films, theatre performances and dance pieces. So it was 2003 before her drolly-titled Neophyte debut appeared, and, she now says, it and its follow-up – 2005's Good Or Goodbye – merely represent early experiments "to find my expression. I got a bit lost."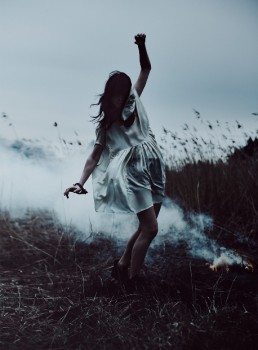 Instead it was 2009's The Noble Art Of Letting Go upon which she finally found her voice. "It's the first record where I dared to do things myself. It's the first album where I play piano – I didn't have the courage before that – and where I trust that my voice, my songs, my lyrics are good enough and can touch people. I really did that album for myself. I needed to at that time. I kind of wrote myself out of a major heartache. So I was quite surprised by its reception and success."
Suddenly she found herself touring Europe – sometimes supporting Ane Brun, and her music was picked up by TV shows in both Britain and the US. Furthermore, its standout track, 'Wear It Like A Crown', so inspired Swedish circus company Cirkus Cirkör that they based an entire performance around the song, winning KARIJORD new fans throughout what has now become a three year worldwide trek. But if The Noble Art Of Letting Go was a step forward for the Norwegian-born, Swedish-based musician, WE BECOME OURSELVES is a giant leap that sees her finally fulfill the promise that her father helped unveil within her all those years ago.
Its birth wasn't easy, however. Conceived as the first part of "a double album project about femininity and masculinity, love, sexuality and the fleetingness of human nature", the album was originally tracked in summer 2011 on a small farm in the Swedish countryside. But, after six weeks, KARIJORD recognised that something wasn't working and, following three further weeks of sleepless contemplation, she conceded that, "the songs were not fully developed. I guess I tried to challenge myself in the studio, which was stupid, since I really need to be alone when I write."
Nevertheless, the results of the second round of sessions, recorded with Tobias Fröberg at Stockholm's Gig Studio, are genuinely exceptional, filled with organs, boys and men's choirs, piano, guitar, drums and KARIJORD's fierce, striking vocal delivery. "I wanted to make a love album first, circling around my relationship to men," she explains. "I wanted it to be a romantic, huge, physical and powerful record, yet stripped and raw, with its flaws on its sleeve. I wanted to make an album about 'life and death': heartfelt and serious."
Surprisingly, its initial framework was constructed with only a drummer and guitarist, ensuring that – beneath these imposing arrangements – the songs remain simple. "My challenge is always to dare to hold back, and to find the right balance to communicate the song's essence. I record layer upon layer and then peel away most of it before mixing. I also recorded a real organ in a church in Norway, and a lot of the dark sub-frequencies you hear are foot pedals, the darkest notes on that organ. I absolutely adore that organic bass sound."
WE BECOME OURSELVES's centerpiece is 'Use My Body While It's Still Young', a song built upon a bedrock of vast, tribal drums – Fröberg's specialty, she suggests. KARIJORD's vocals are potent and yet unafraid to display subtle, bewildering hints of vulnerability in both her delivery and lyrics that declare that "the only thing that stops this noise is skin" while accepting the inevitable truth that "we ́ll all be gone in a hundred years." Its video is equally impressive, the polarity within the track reflected by the presence of Siv Ander, a 75 year old ballet dancer capable of expressing both power and fragility at once. Also featured is the organ that dominates the album's cover, built by Swedish artist and designer Gustaf Von Arbin.
"For me, the organ is a metaphor for the heart," KARIJORD reveals. "Gustaf built it with branches, exhaust pipes and such. I feel it symbolises the romantic side of the record as well as the presence of nature in the lyrics." These are qualities found in abundance throughout a record that hints at a wide range of influences that include the likes of Cat Power, PJ Harvey, Buffy Sainte-Marie, Moondog, Robert Wyatt and, indeed, a significant amount of instrumental music that most likely accounts for the imaginative arrangements. 'Prayer' is a stripped back affair that slowly develops through the understated employment of a male choir who reappear on the growling 'Save Yourself', which also features a boys choir as moving as that found on Talk Talk's remarkable 'I Believe In You'; 'Multicolored Hummingbird''s delicate, nimble nature belies a melody that lingers long and heavy, while 'You Make Me Real' is so gentle as to barely exist. 'Oh, Brother', meanwhile, is a sensitive lament that aches with both sadness and optimism as KARIJORD sings, "We felt distance without knowing why / If I ever have a son I'll teach him it's OK to cry", and the title track, 'We Become Ourselves', is distinguished by harmonies as imaginative as those found on Sinead O'Connor's debut, The Lion And The Cobra.
As for what lies ahead, KARIJORD warns of shows that she hopes will recreate "the hugeness and intimacy that I feel the album has. There will be a lot of voices, loads of organs, at least two drummers and a great visual concept spinning off the idea of the organ." And what about the second half of this double album concept? "I have a feeling it will be very stripped back, with focus on the female voice. I think I'll play and record everything myself on that one – only keys, no drums this time – and then bring in other female voices. It's about being a woman, aging, and solitude within your own body. Hopefully it will have the same energy and edge, but in a totally different way."
If "romantic, huge, physical and powerful, yet stripped and raw" were KARIJORD's goals, then she has more than surpassed them. With WE BECOME OURSELVES she has crafted a record of unforgettable, eerie magic as moving as the events that first pricked the sides of her artistic intent, as epic yet peaceful as the Northern Norwegian landscape into which she was first born to two young, doomed, inspirational idealists. If it's taken her time to reach this stage in her artistic development – to really 'become herself' – it's been undeniably worth the wait. "The hard and the soft are forever bound…"
JANUARY 2013 TOUR DATES
16th January 2013 – The Borderline – London
17th January 2013 – The Ruby Lounge – Manchester
18th January 2013 – The Workman's Club – Dublin
19th January 2013 – King Tut's – Glasgow