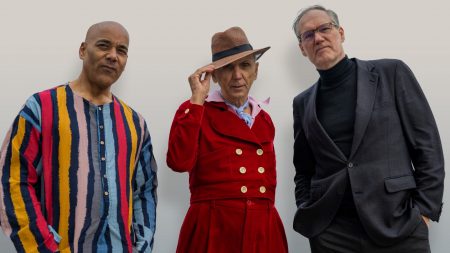 As a child in the 1980s, Dexys Midnight Runners were everywhere, you couldn't go to a party or event without 'Come On Eileen' being played at least once. Dexys seemed to dominate the pop world for while, in a whirl of cleverly crafted theatrical pop which blended northern soul with folk influenced violins. Fast forward forty years and Dexys are back on the road again having released three albums since reconvening in 2012. 
Frontman Kevin Rowland may be the only original member left in the line up tonight, with other original member, trombonist Jim Paterson, not on this tour, but that doesn't stop the devoted crowd hanging on to Rowland's every word. Dressed in one of his characteristically flamboyant outfits with red wide trousers held up by braces and a hat to match, Rowland strolls around the stage singing opening number 'The One That Loves You' to violinist Lucy Morgan, as the pair act out the song's lyrical meanings on stage, with Rowland declaring his love and Morgan seemingly unimpressed by such affections. Dexys have always had a theatrical leaning to their music, with spoken word interludes delivered by Rowland discussing his life, so it's no surprise that this translates into more of a musical theatre production for the first half of tonight's show where the band play their latest album in its entirety. Not that anyone's complaining, as 'The Feminine Divine' is a compelling listen, with Kevin Rowland's conversational interludes in between each song's storytelling style lyrics, and the different facets of Rowland's character revealed in each tune, lending themselves to tonight's show  perfectly. An album built around empowering and honouring all aspects of womanhood, 'The Feminine Divine' is a brilliantly unique work. Tracks like 'My Goddess Is' has Rowland, and current Dexys members Sean Read and Michael Timothy taking turns to describe whatever they find appealing about their goddesses.  You could hear a pin drop in the seated Bridgewater Hall during the beautiful ballad 'My Submission' until spontaneous applause breaks out as he hits a pitch perfect high note in the soaring chorus. After each song keyboardist Michael Timothy starts a conversation with Rowland (all part of the show) which revolves around him asking questions which he lead seamlessly into the next tune. It's one complete piece of musical theatre and it's utterly mesmerising. 
After a twenty minute interval, the band return with 'Soon' the B side to 1981's single 'Show Me' then 'Plan B' from 1982's seminal album 'Too Rye Ay' and it's evident that for the second half they're diving headfirst into their tremendous back catalogue for a greatest hits set. We're treated to phenomenal versions of 'All In All (This One Last Wild Waltz)' and 'Until I Believe In My Soul' from 'Too Rye Ay' before all hell breaks loose as the opening riffs of 'Come On Eileen' ring out, and the rapt, attentive crowd, get up dancing, not just where they were sat, but in the aisles too. Normally more used to sedate orchestral crowds, the Bridgewater Hall stewards decide there's no point telling anyone to get back to their seats and just let us all get on with it! With the audience still standing the band return for an encore of two more of their biggest hits 'Geno' and the rarely played 'Jackie Wilson Said (I'm In Heaven When You Smile)', with the audience singing along to every word, arms raised, along with dancing up and down the aisles. Ending with the spine tingling traditional Irish folk ballad 'Carrickfergus' from their 2016 covers album 'Let The Record Show: Dexys Do Irish And Country Soul', the audience remain standing, silently absorbing the delicate beauty and raw emotion of the tune, as pictures of Rowland with his father are displayed on the backdrop, alongside images of days gone by. The band are genuinely moved by the reception they've received as Rowland acknowledges "Sean here, just said 'wow' and I couldn't agree more, just thank you!" as they depart to a standing ovation lasting several minutes.
We all know the power music can have, and the effects of a great song, but sometimes you go to gigs which feel more like a communion between band and audience. Tonight was one of those rare live music moments where you get the feeling that this one will stick in the memories of both band and audience for a very long time.