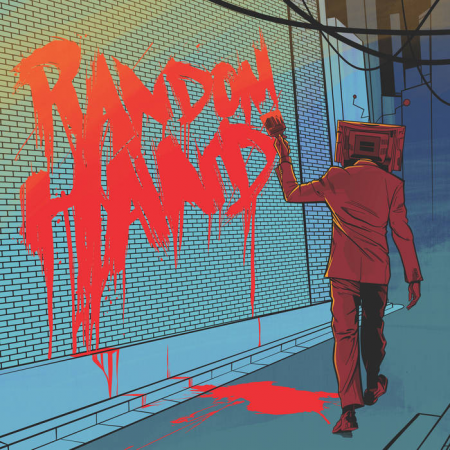 I love a super-over-produced, American punk record – this is simply what ska-punk should sound like, in my book (apologies to King Prawn and Judge Dredd). Ten tracks, just over half an hour, short but sweet and high-intensity start-to-finish.
That ringing p-bass, the brick-wall compressed horns, the clicky, palm-muted percussive guitar chords clicking through the verses, the red-hot wall-of-noise on the chorus, rousing Hammond organ lines and full-volume shouted backing vocals… the unnerving circus-music-induced feeling that a clown might jump out at you at any point…
Random Hand has it all (ok, maybe not the clown thing) and it's all the more impressive given they're a four-piece from the UK.
While there is some history of other UK bands making it big in the post-Green Day / Rancid "new" punk scene – see Snuff and Consumed, signed to the big label in this genre: Fat Wreck Chords in the early 2000s, and ska-punk bands like King Prawn and [spunge] who have been popular since the 1990s, this is definitely a genre where the big players are all from the US.
Random Hand fit as well in this field as any other British band given that they're decidedly "neutralising" the accent on a lot of the vocals, hailing as they do from Keighley (West Yorkshire, if you're not familiar with the other side of the Pennines). No criticism from me, here – given the above, I reckon it's pretty bloody hard to market music in this competitive niche if you're trying to do it with vocals like Yungblud. Random Hand strike a balance between keeping the lyrics clear without affecting a fake accent. Break The Frame and XY certainly have some genuine accent on show, for example.
There's plenty of Fat Wreck Chords sensibility on Random Hand but definitely something extra in the use of three-way harmonies and female-range vocals. Here Lies the Music is reminiscent of Man With A Mission's more epic choruses. There are other unusual bits of vocals dotted through the record (particularly for the style) and instrumentals that stray into heavy rock, metal, hardcore and musically it has occasional flavours of RATM, TOOL and Rise Against. All of this provides a bit of variety from the cookie-cutter verse-chorus dynamics that some bands in this genre stick religiously to.
Busy Lumps of Carbon is the "obligatory acoustic number" but it's interesting that it sounds like it was recorded on a phone camera; this being a noticeable contrast to the super-clean high-fidelity sound on the rest of the record. I'll be honest, I think this is the one choice on the album that I would critique – a more faithful and developed recording of this track would be "double-A-side" material or have potential for breakout success on streaming services.
Frequencies and Devil With a Microphone are probably the most stereotypical of the ska-punk genre, with strong, uplifting vibes and would go well with a cider in the sun – which is fitting, as Random Hand have a sold-out all-dayer coming up in London featuring a variety of other UK ska-punk bands, and plan to run additional "Handfest" dates on at least an annual basis.
Random Hand: Random Hand – Out 29th September 2023 (Bomber Music)