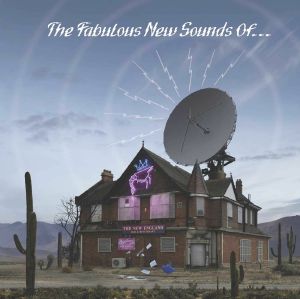 When the Silent Radio reviews editor offered me the chance to review a King Prawn release, I assumed it would be a best-of or a re-issue – I didn't even realise they had re-formed in 2012 – but here I am, listening to a brand new album 'The Fabulous New Sounds of…', which does a fair job of living up to its name.
I mean, 'fabulous' might not be the first term I would choose to describe it and none of the songs on their own really push the boundaries of 'new sounds' in terms of the ska-punk scene but it's fabulous to have some new sounds from King Prawn and it's a charming album, despite the aggression and conviction that often comes through in the vocals and lyrics.
Vocalist Al Rumjen (also formerly of Asian Dub Foundation) still clearly has a lot to passionately express, just as he did in the earlier King Prawn releases of the nineties and noughties. His versatile style, spanning rap, shouty punky choruses and dub stylings make for a characteristic blend.
One of the things I love about ska-punk is the variety of instruments in play, and King Prawn make the most of this with synths, piano, organ, acoustic guitar and electronic beats as well as the ska-punk staples of a full brass section over a guitar, bass and high-energy drums back line.
Another thing I love about ska is just how high-energy it can be and King Prawn, while not quite hitting the hyperactive highs of some ska-core bands like early Mad Caddies, still hit some highs with great grooves, well-crafted songs and an impressive number of really catchy hooks, particularly on typical ska track Seven Seas.
This isn't just a set of standard off-beat hi-hat verses and double time choruses, though, in the vein of Fat Wreck Chords and other American ska-punk that dominated the scene in King Prawn's absence. 'The Fabulous New Sounds of' shows much more variety, longer songs with room for exposition and variation and overall, it's just a much more rounded character than the average album in this genre.
There is a strong dub influence on more than a couple of the tracks and there's something of a 90's indie charm to it – a sort of rock-and-roll element and an exuberant happiness in the music that was so prevalent in bands like Dodgy and Terrorvision, as if this is a band of upbeat guys who are all just loving playing together and writing music they love to play.
King Prawn: The Fabulous New Sounds Of – Out 3rd May 2019 (Cherry Red Records)