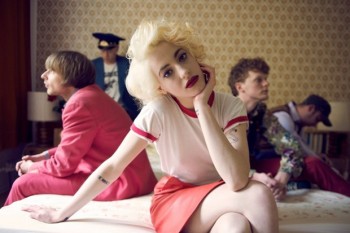 Following a phenomenal response for the debut album 'Yours Truly, Cellophane Nose', released in February this year, Beth Jeans Houghton & The Hooves Of Destiny are set to release a new single: the brilliant 'Dodecahedron', which was formerly picked up by Radio 1 BBC Introducing playlist.
Showcasing Beth's extraordinary voice and off-kilter lyrics, 'Dodecahedron' explodes in cascades of colours and little drummer boy beats. Watch the video, directed by Sasha Rainbow, below.
"The night before I wrote it I had a dream that consisted of me running up to strangers in the street and asking them what a dodecahedron was, but no one knew," says Beth. "I later found out that the ancient Greeks believed the Dodecahedron is a symbol of the universe and represents an idealized form of divine thought. Having said that, despite that first line, the song is nothing to do with Dodecahedrons, it's just a prelude to a thought."
Houghton & her band The Hooves Of Destiny will be riding into a city near you soon, and there's a special offer for those in attendance, Beth proposes "On this tour we're offering each of those attending our shows a one-off original, hand-drawn picture by myself & the hooves, in exchange for some unwanted clothing or canned food, which will then be passed on to homeless shelters in that city". Check online (Facebook and Tumblr) for more details closer to the tour.
Summer festival dates:
Sat 15 Sept – Festival No. 6, Portmeiron, Wales
September tour:
Sun 16 Sep – Cyprus Avenue, Cork – http://bit.ly/Qq8HLm
Mon 17 Sep – Wheelans, Dublin – http://bit.ly/Qq8HLm
Tues 18 Sep – Black Box, Belfast  – http://bit.ly/Qq8HLm
Thu 20 Sep – Trades Club, Hebden Bridge – http://bit.ly/ORwQu6
Fri 21 Sep – Cockpit, Leeds – http://bit.ly/ReQohd
Sat 22 Sep – Stereo, Glasgow – http://bit.ly/OZbrou
Sun 23 Sep –  Hartlepool, The Studio – http://bit.ly/PCzAxm
Tue 25 Sep – Deaf Institute, Manchester – http://bit.ly/J1qdWU
Wed 26 Sep – Kings College, London – http://bit.ly/ReQbu9
Thu 27 Sep – The Cellar, Southampton – http://bit.ly/SSBWZD
Fri 28 Sep – The Haunt, Brighton – http://bit.ly/SSC9vF
The debut album 'Yours Truly, Cellophane Nose' is out now on Mute. Created with producer Ben Hiller (Blur / Elbow / Depeche Mode), it introduces one of the most self-assured new bands of the year, fronted by a pop polymath whose blend of psychedelia, glam rock and chain gang folk is quite unlike anything else you're likely to hear in 2012, made from disparate individual elements that wouldn't work on paper, but sing out like a holy choir in the execution.