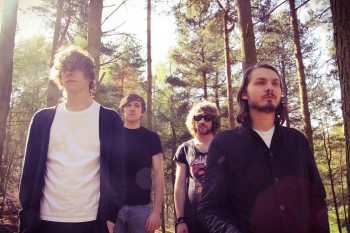 The Manchester quartet will release 'Stuck In This Ocean' on the 5th September through Play It Again Sam. Produced by Doves/Cherry Ghost producer Dan Austin at Rockfield Studios, the album was aided by Doves' ambient programmer Rebelski, and Editors' guitarist Chris Urbanowicz.
 The album features the new Single 'Algebra' (out now) and the recent single, 6Music playlisted and Zane Lowe's 'Hottest Record In The World', 'Kids'.
Since forming in 2008, Manchester four-piece Airship have notched up acclaimed support tours with Editors, Biffy Clyro, The Joy Formidable and Frightened Rabbit. Developing these songs live, on the roads of Britain and Europe, was how Airship wanted to write them, and it wasn't until they were suitably road-tested within packed, sweaty rooms, that the band were ready to commit them to tape.
The single 'Algebra' is a fine example of the sheer scale of 'Stuck In This Ocean'; a suitably 'big', leftfield record, and one with a depth and soul. Vocalist Elliott Williams is a considered songwriter, and one that pays close attention to the flow of the songs and the album as an entity in itself.
Taking notes from the likes of Animal Collective and Wild Beasts, and albums that piece themselves together like an intricate jigsaw puzzle after repeat listens, Elliott and Airship value the layering of instruments and the strength of making their songs blast out of the speakers with a Phil Spector ear for immediacy.
Finding kinship with the 'slacker', college bands, predominantly of the US, Airship have written a suitably coherent album, brimming with confidence and invention. Algebra is the finest example yet of how confident and assured Airship have become in their songwriting. An exciting young band with justifiably huge ambition.
To coincide with the album's release, the band head out on a huge 24 date UK tour, kicking off at Glasgow's Nice'N'Sleazys on the 11th September, and concluding at Peterborough's MET Lounge on the 11th November. The tour follows Airship's recent support tour with The Joy Formidable.
 Tickets for the tour are on sale now through Seetickets.com
Airship Live:
Sun 11 Sept – Glasgow Nice'N'Sleazys
Mon 12 Sept – Sunderland Independent
Tue 13 Sept – Manchester Kings Arms
Thu 15 Sept – Liverpool Shipping Forecast
Fri 16 Sept – Leicester Musician
Sun 18 Sept – Bristol Louisiana
Mon 19 Sept – Cambridge Haymakers
Tue 20 Sept – London Old Blue Last
Wed 21 Sept – Brighton Green Door Store
Sat 22 Oct – Tunbridge Wells Forum
Sun 23 Oct – Southampton Joiners
Mon 24 Oct – Guildford The Boilerroom
Tue 25 Oct – Birmingham Rainbow
Thu 27 Oct – Cardiff Ten Feet Tall
Fri 28 Oct – Manchester Deaf Institute
Sat 29 Oct – Dundee Beat Generator
Sun 30 Oct – Edinburgh Cabaret Voltaire
Tue 1 Nov – Aberdeen Cafe Drummonds
Wed 2 Nov – Inverness Mad Hatters
Thu 3 Nov – Carlisle Brickyard
Fri 4 Nov – Newcastle Other Rooms
Sun 6 Nov – Sheffield Harley
Mon 7 Nov – York Stereo
Tue 8 Nov – Nottingham Bodega
Wed 9 Nov – Leeds Nation of Shopkeepers
Thu 10 Nov – London Hoxton Bar & Grill
Fri 11 Nov – Peterborough Met. Lounge