Johnno Casson is Snippet.   And Snippet is a DIY project band that creates lush sounding productions in a mythical garden shed somewhere in Colchester.  In that magic garden shed, Casson builds and shreds a number of different personalities.  He also writes and self-records arrangements that match the complexity of the characters and stories on the second Snippet full-length release, DIY.
DIY is a natural follow up to the previous Snippet album, Slowly Slowly Catchee Monkey.  On the earlier release, the folk guitar was prominent on many of the songs and the beats that really drive DIY were introduced, but used with some restraint.  On DIY, Snippet puts his foot to the floor- bends some genres and breaks some rules, which is an easy thing to do as a solo artist.  That acoustic guitar appears to spend a lot of time in the case on the new album- and the beats get cranked.  The lyrics turn smartly cynical- and characters and emotions in the lyrics are well constructed and fully fleshed.
Casson often writes from the first person, and constructs a set of super self-deprecating and very clever characters.  In every possible way, Snippet builds up and tears down both characters and caricatures with a great sense of humor and irony.  But it is not all fun and games, sometimes the characters that walk in and out of Snippet songs drop the mask and you genuinely feel for them.  This is a fun album that has depth and breadth in both the songwriting and musical arrangements.
As the title of the album suggests, Snippet is a DIY artist.  But as is becoming increasingly the trend DIY does not automatically equate to lo-fi.   This is a well produced and engineered album, with a very healthy dose of ear candy.  The concept for the album came when Casson discovered an old box of cassettes, some of which were musical outgoing messages he recorded with his kids.  These tapes not only inspired Snippet to write a new album, but three are actually included as tracks on DIY.
DIY is a collection of nine meticulously constructed songs and three pieces from the family cassette archive.  There is an acoustic guitar that pops up here and there, but this is by no means folk-pop of any sort.  Snippet likes layers and is an expert at building a groove using real and sampled percussion sounds and very funky keyboards.  But this isn't a funk album either, this is a genre bender with elements of down-tempo lounge, techno, folk, and rock.  All of these elements go into Snippet's magic garden shed and come out polished and punchy.  The lyrics are engaging and clichés are either rejected or outright mocked- delivered in such a way that it might take a few listens to realise when Snippet is being sincere and when he is completely pulling you.  And if you fall for it, it makes Snippet happy.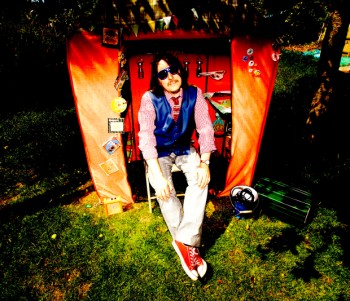 This has been an extremely busy year for Johnno Casson and Snippet.  As a DIY artist, Casson is able to capture the sounds or lyrical moments when they hit.  But then each song becomes a labor in itself as the vibe is built, torn down, and built up again.  After four EPs, the 2012 full-length 'Slowly Slowly Catchee Monkey', and a brilliant contribution to Pulco's compilation 'Modular Pursuits' it is clear that with each release Snippet (and Johnno) continue to learn and evolve.  The tracks get deeper and the lyrics more cunning.  Snippet OWNS the funk-sarcasm space.  Totally.
The opener, 'Let's Talk About Us' is a great introduction to Snippet.  If this song catches you he will hold onto you for the rest of the album.  The sonics of the recording and mix are studio quality, but they are also part of his songwriting process.  'Let's Talk About Us' starts with a crisp acoustic guitar progression, which collides with a classic funk beat, and things come at you from odd angles before the song settles into a lounge-y groove.  The lyrical story, like many in the Snippet catalogue, is carefully constructed and self-centered, bordering on narcissistic.  Two characters in a club, each with a different set of expectations, and it is very clear that Snippet is doing most of the talking in the line, "Let's talk about us, but focus on me."  This concept of the undefeatable and entirely self-absorbed character studies run throughout the album.  On the surface, 'Let's Talk About Us' sounds like a very lush piece of club music with the lyrics reflecting half the conversations taking place at the bar while Snippet cruises the dance floor, laughing, but also frantically taking notes.  It is clear from the start, Snippet is a provocateur with a wicked sense of humour.
Snippet then puts some very neat cracks into his polished veneer in the second DIY  track, 'There's a Bear' This is an outgoing phone message from that box of cassettes  featuring the most important part of Snippet's real life, one of his children singing joyfully about a bear.  The piece ends abruptly with Snippet bringing us back to earth (and back to character) with, "We can't get to the phone right now- we're busy singing."  The phone messages and the singing Snippet kids are honest and real, a marked contrast to the caricatures created in the other songs.  These abrupt changes between the absurd and the real did not happen by accident, Johnno Casson has done his homework.  Snippet's writing and composition are well studied, bringing together sonic and stylistic elements that most musicians would not be able to get to mesh.
'Come To My Party' is similarly set to a folk-tinged funk beat and like the opener would make great background music at a house party.  The poppy melody and the music deflect the serious nature of the song, Snippet is making masks again.  'Come To My Party' is Snippet talking politics in a way that sounds so casual and vacuous you have to listen closely to discover that he's singing  about the alienation between the average person and British political parties.  "I've got some weight on my back, but life in my sack and I keep hearing you say, believe me."  These are biting words, "I'm sick of hearing that we've got nothing to smile about" and they become even more bitter as the beat amps up and a slick wah-wah guitar comes into the mix.
In Snippet-world, a bad party is a bad party.
'Comics' brings us back to real-world Snippet and one of the children sings a made-up-on-the-spot-and-fucking-go-for-it tune.  The kid bravely belts out an ode to the love of comic books and it works because of the authenticity and the brass.  The kid loves comics, and Snippet loves the spirit and was brave enough to include it as a track on the album.  This is about as DIY as one can get, take an improvised tune sung by a child into a portable cassette recorder and put it onto an album next to precisely crafted hi-fi productions.  The Snippet caricatures are shallow, but a simple child's tune and enthusiasm are sincere.  It is almost a baseline against which we can gauge the level we dislike some of the characters that appear on the album.
We return to the Snippet netherworld with 'Absolutely Love', a song with a quirky intro that would fit nicely into the soundtrack for a Wes Anderson film until Snippet shifts the gears, cranks the beat, and pulls out the keyboards.  In many ways, the lyrics are downbeat- describing the concept of absolute love as the absence of all clichés and Hallmark cards.  But the song also highlights Snippet as a shape shifter- there are "yeah, yeahs," haunting background vocals, and a keyboard riff reminiscent of Stevie Wonder.  This could read as an anti-love song.  Snippet is obviously a student of music and has a diverse range of influences.  In 'Absolutely Love', and many of the other songs on DIY the pop/funk/folk/techno influences are easily identifiable and because of his genius performance and engineering they mesh quite well, creating a new sound altogether.
'Hello, Hello' is a straight answering machine message- and the shortest track on the album at 21-seconds.  But do not skip this one.  The message is cleverly done in character.  Instead of a typical, "Hi, we're not here- leave a message and we'll call you back," Snippet offers a polite blow-off.  "Leave a message and if we like it we'll call you back."  It would not surprise me if this line ends up on a future Snippet song because it is so completely in-synch with his lounge lizard caricature.
The first six pieces on DIY are mostly humorous or cynical.  'Gone to Ground' is the one and only true torch song on the album.  This is a song about hitting the bottom and giving up belief in anything that might lead to salvation.  The arrangement is haunting.  There are found sounds in the background, mixed against a melancholy guitar and piano.  In typical fashion, the song builds but in an extremely subtle way.  The bass drops in.  Then a drum kit.  Then more keyboards.  Then more vocals. Then a melodica.  The build does not hit you over the head- it creeps up on you, like the desperate character singing, and the intensity builds beautifully.  The use of ambient sounds in the background 'Gone to Ground' is a brilliant touch.  This is a sad song and the music is perfectly mournful in a very heartfelt, and very original way.
A home tape creates the backdrop for 'Memory Bot'.  This 46 second long interlude has all of the trademark Snippet sonics but the manipulated tape of children's voices perfectly expresses the album concept.  As that box full of magnetic tapes Johnno Casson found slowly degrades, so too do the memories they contain.  By repurposing the sounds on 'Memory Bot' Snippet is preserving those memories and re-purposing them.  Smart fellow, that Snippet.  Very smart.
Bass rules the headphone space on 'Much too much'.  The synth, electric, and kick drum throb at the bottom end.  The layer of keyboards carry the melody and bring the only brightness to the mix.  This is a very down tempo groove.  The quandary here is, "you're all I have, but you're much too much for me."  The verses plod, like someone trying to put off a hard decision, but in the instrumental break at the end, the arrangement expands, again highlighting Snippet's creative engineering and proficiency on so many instruments.
Snippet refers to DIY as a mini-album only because several of the songs are remixes.  'Absolute Funk' is a remix of 'Absolutely Love'.  This version is more upbeat and lacks vocals.  But rather than just settle into a groove and nod off, the song screeches to an abrupt ending.  This is not a mistake, when Snippet makes a statement the curtain closes.   The show is over.  Done.
'Celebration' would have made a great closer to DIY.  In this piece Snippet lays out the DIY philosophy behind DIY (the album) in full detail.  This is Snippet's battle cry for the ethic of taking ownership in the music you create saying, "we're dancing to our own beat, to our own shit."  In Snippet world, the DIY creation and dissemination of music via the Internet are a global cottage industry where the underdog rules, and rules hard in Snippet world.  This is the closest to a true rocker on the album, and it has a groove that's carried by smart, but not over-the-top percussion, and Snippet's masterful keyboard riffs.
A second remix closes DIY with 'Let's Talk About Us (Reprise)' a song that stands well on its own compared with the original.  All of the musical elements from the original jump into place, there is no slow build, and this is a nicely compressed version of the opening song with the melody at the front.  The reprise of 'Let's Talk About Us' takes us right back to where we started with DIY grooving.
As a DIY artist, it is important to stay true to your goals and that often involves carrying the swagger, even if no one is looking (or listening).  All of the songs on DIY are bravely done, even when the little Snippets sing and giggle along.  In many respects, this is an innovative album, the incorporation of that mouldering box of home recordings weaves in and out of techno beats and lounge groves.  The resulting tapestry is texturally rich and complex.  Snippet's performance and, just as  importantly, engineering make DIY a great album.  This is a confessional and a rant- wrapped in warm production, a rave, a dash of folk, and a splash of funk.
If you like Beck, of Montreal, or Prince (with a sense of humor) you will certainly find your sarcastic groove with DIY.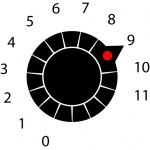 Snippets Official | Facebook | Twitter | Soundcloud