From time to time, one of our contributors will recommend an artist/band they think deserves to be brought to your attention. No record labels, PR companies, bands or band's management will ever have made these recommendations. It is simply one music fan putting their taste on the line in the hope of sharing good music. The questions are intended to give just a basic introduction to possibly your new favourite artist/band.
So without further ado, let's crack on with another introduction, in which Silent Radio's Lucy Brown recommends Blood Sport for your audible delectation.
*****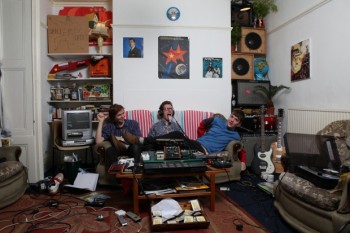 Who are ya?
Blood Sport, there are three of us. There is a space in our name.
Where are you from?
The south coast. We're not particularly fond of it. We moved up to Sheffield in 2009 and don't plan on leaving anytime soon. We live in an area called Netheredge, where children assault you with questions and cricket matches.
How long have you been doing what you're doing now?
20 minutes, the laptop is starting to warm my legs.  We've been together for about 2 years now, but only 1.5 of them was as a full band. Alex joined Sam and Nick, who'd met in an awful club night where Nick had gone to try and find 'weird friends' – they bonded over 'My Life In the Bush of Ghosts', and went from there. Alex added a more refined and effected layer to our sound, and we've mucked around in similar format since. We've been playing our current set for about half a year – we tend to go through phases, we're definitely in a noisy one at the moment.
Is being a musician your full time job?
No, Sam picks weeds, Alex looks after a guy who says he'll only listen to us if we get a number one in a significant country and Nick's an office clerk. Who upon staring across the office floor this morning while printing letters, asked himself "why am I here?" He still doesn't know. We were all at university before, and that was a lot more fun.
How would you explain your sound to someone's 90 year old grandmother?
This is our bedroom music.
I tried to explain our music to my co-workers the other day, it was impossible. A very basic description would be: experimental noise rock mixed with african guitar music. We call it Aggrobeat. Sam's better at descriptions though, here's his:
"Three men. Three instruments.
Now take your horizontal mind, and apply all your mental energy toward forcing out this mind's itching, imagining fingers. These fingers reach out and coil the limbs of these men around their instruments as if their limbs were made of plastercine. Twist; twist until every inch of maluable flesh is pressed into an equivalent inch of polished hard-wood, cutting guitar strings, dented and frictitious oak wood, cold metal. At around the torso-mark on each male body, corporeal tension holds within its grasp a tight bundle of blood, flesh, bone, and musical industry.
Now force these men to dance, and sit back as wave after wave of dissonant, agitated, pedal-modulated aggrobeat passes over you."
Are there any obvious influences in your music?
We're pretty open about the fact that we voraciously consume most types of African music and then spew it out/rip it off with a few tweaks. We're massive fans specifically of Konono Nº 1, Fela/Seun Kuti, Mulatu Astatke, the Soundway and Analog Africa labels and various Secousse bands. We love Battles and Talking Heads on the pop side, and can perhaps blame our weirder bits on stuff like Captain Beefheart, Zs and The Fall.
Are there any not so obvious influences in your music?
However, that's mainly just what we put in boring emails. We don't actually really listen to much guitar music at all, we mainly listen to electronic dance music. Alex and Sam have just started a World Dance/Techno night called Bat Makumba. Hence, we love repetition, and we like our drums mixed loud.
Apart from yourself of course, what other band/artist would you recommend our readers check out?
Sheffield's been getting really good recently. Here are our favourites:
Drenge – noisy garage blues two piece
Trans/Human – noise techno
Tye Die Tapes – the label we just released on, they're a lovely father and son team.
The Audacious Art Experiment – the label and collective where we're based, they put out some amazing records.
Collider – early emo/indie rock, sick m8
Che Ga Zebra – no waff
Soukous Revelation – sheffield's very own Secousse band, so good
Best place for people to find out what you are up to?
We've got a website, which has gig listings and general stuff: http://bloodsportband.tumblr.com
For the ears: http://bloodsport.bandcamp.com
For the news: https://www.facebook.com/bloodsportband
Anything to declare?
I lied.