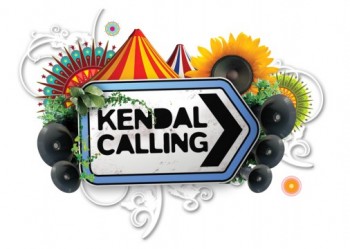 – LOWTHER DEER PARK, PENRITH –
Now in its fourth year, Kendal Calling has grown at an unprecedented rate. When it opened its gates for the first time in 2006, the capacity was a mere 900. This weekend they have sold all six thousand tickets for its arrival in the beautiful surroundings of its new location, the Lowther Deer Park in Penrith.
On arrival at the main entrance on Friday morning, there is a queue of easily a thousand eager punters heavily laden with their weekend necessities. By the time the main arena opens at five o'clock, the campsite is now well and truly starting to bustle with activity.
The first act on my agenda for today is Captain Hotknives from Bradford on the Kaylied Stage. He opens his set of acoustic punk story telling with I Hate Babies. The tent is now full with highly amused onlookers as belts out more of his highly amusing angst ridden songs. The one thing I found a little concerning is that the stage he is playing is set in the family area of the arena.
By the time I get over to the main stage Goldie Lookin Chain are already into their set. They give the crowd exactly what they want to hear with all their usual welsh swagger and endless energy. As on each of the following nights, the headline act is onstage at the early time of around nine o'clock and the first of these is The Streets.
Mike Skinner and Co have had a few bad reviews of late, so I am interested to see for myself if any of this is true. Thankfully, this is not the case, as the whole set, including many favourites such as Fit But You Know It and Let's Push Things Forward, have the crowd bouncing around.
As with all festivals, it is hard to get to see many sets in full, due to the timings and as I get to the We Are Calling stage, Fight Like Apes are already in full flow. Front girl May Kay and partner in crime Pockets are as always, working the crowd into a frenzy with their high octane sound.
Saturday sees the arena opening at the earlier time of eleven today and second to take to main stage is Manchester's very own Whiskey Cats, who give a great performance of their fast paced indie pop. Up next is Smoove and Turrell who are currently breathing new life into the British funk and soul scene.
Even though it is now approaching early evening, the arena is looking rather bare of people wanting to catch any live music. So as my friends are here with my goddaughter, we head over to check out the family area to see what many other festivals have now given up on. The Tribe of Tat are a creative collective that are on hand with their drum workshop, mask making sessions and face painting, to give kids and adults alike a break from the usual festival normalities of just watching bands and queuing at bars.
Back at the main stage again and Oldham's Twisted Wheel are giving it their all with another cracking live set. As I get up to the Traffic stage to see human beatboxer Beardyman, I can clearly see from the bottom of the hill that it is going to be a struggle to get into the marquee. Even so I try my damnedest and the furthest I get is about a foot inside. It is possible that the main stage may have been a better choice for this extremely talented lad from London.
Down the hill again and The Zutons are now taking up their positions for tonight's headline spot. Abi Harding, is as ever, the standout band member in her bright red outfit as she dances around whilst playing her saxophone and jumping in on backing vocals. All the hits, such as Always Right Behind You, Pressure Point, You Will You Won't and Valerie are given an airing.
As the main stage closes for the night, I get up to the We Are Calling stage in time to catch the fantastic electronic dance-pop trio Chew Lips. As always, singer Tigs is a force to be reckoned with throughout this very short but sweet performance.
Sunday afternoon sees the sun making a welcome appearance over the Cumbrian hills and I decide to make my way to the SNO!zone. Eighty tons of real snow has been trucked in to create a snow beach and sledging slope for all to enjoy. With deck chairs and a cocktail bar, it a great area to relax and enjoy the clear skies.
My first pick for today is Micky P Kerr with his unique mix of poetry, folk and hip hop. He warms us up with a couple of his poems, then picks up his guitar and is joined by Stiffy D on the keyboard. As he goes from one song to another, it is clear that this guy is a not only a talented singer and songwriter, but he has whit in abundance too. The two stand out tracks for me are Banned From Morrisons and I'm Not Arrogant (I'm Better Than You).
My final port of call for the weekend is The Craig Charles Funk & Soul Show. It would be fare to say that by now festival fatigue is starting set in across the thousands of people that have been here since Friday, but it is about to be severely kicked to one side for the next two hours. From the second Mr Charles, in his Paparazzi Suck t-shirt and his cohorts grace the stage and spin the first track, the energy levels can only be described as frenzied.
Every person inside and outside the tent have found there dancing feet are loving each faultless choice emanating from the speakers. This set alone would be worth the weekend ticket price and by the time he is spinning his last few choices, the stage is now full of friends and VIPs dancing. There is no doubt that Charles has the best job around and he enjoys it enormously and for this it is hard not be extremely envious. This was most definitely the highlight of the whole weekend and I am thinking next summer they should headline the main stage at every festival.
Back at the campsite it is now bewitching hour, as it is at most of the summer festivals around the UK, with the usual small crowd of idiots that think they can run riot by setting fires to anything they can find and in the process changing the mood of the weekend. The only other issues that occurred in the three days were the timings of bands being changed at last minute and a problem with toilets not being cleaned enough for the first two days, which was due to a problem with the contractors and was eventually resolved on the final day. Overall I would highly recommend this as an alternative to the much bigger and less friendly of the music festivals on offer throughout the summer months.