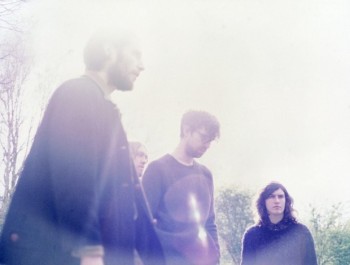 With their darkly poetic lyrics and Americana leanings, Grass House will release a new single, 'The Boredom Rose' b/w 'Caught Green', the first for brand new independent label Dancing Coins on the 10th September.
Grass House will be the first band to be released on the up-and-coming London label. Dancing Coins was founded this year by a collective including producer Jim Anderson (Cold Specks, The Twilight Sad, 2:54).
A joint single and label launch party on 11th September will be held at London's White Heat at Madame Jo Jo's, with support coming from Colours and dj sets from Weird Dreams, Still Corners and Sylver Tongue.
Grass House are Liam Palmer, Steven Dove, Ross Hall and Nicholas Jones, a group of Northerners drawn towards London then into a rehearsal room through their love of Joe Meek, Jonathan Richman, Captain Beefheart and Lou Reed. Liam and Steven met in the wilds of Driffield and continued playing music together on their move to the capital, with Ross and Nicolas completing the line-up as the rhythm section. Grass House have previously self-released two singles, 'A Cradle, A Short Breath' and 'Faun'/'The Breeze' in 2011.
Buy on 'The Boredom Rose' on iTunes here, 7″ is available in September.