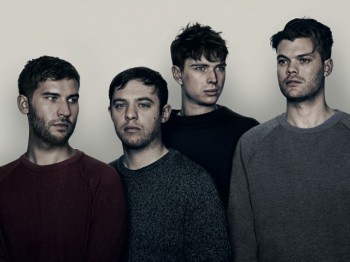 The idiosyncratic and innovative sonic force that is Everything Everything are back with their follow up album to 2010's critically acclaimed debut, 'Man Alive'.
'Arc' will be released on January 14, 2013 on RCA Victor. Recorded at Angelic Studios and RAK, the band returned to 'Man Alive' producer David Kosten to work on the new record.
The lead single 'Cough Cough' is the perfect intro to the four piece's musical leap forward since their debut was released exactly two years ago. Older, wiser and often braver; a fresh air of confidence is stamped all over this album. 'Cough Cough' is released digitally and on limited 7" on October 14.
The striking video to accompany 'Cough Cough' was also the brainchild of lead singer Jonathan devised, directed and expertly edited.
In Jonathan's own words…"Cough Cough is about the power of money and the desire to get away from it. It's also about waking up and seeing the world as an unfair place and then slipping back under the spell of greed. It's about having no money, and wanting more money, and wanting nothing to do with money at all."
After a deluge of 4 and 5 star reviews for their debut album, 'Man Alive' went on to win the coveted South Bank Times Breakthrough Award and was shortlisted for The Guardian's First Album Award in early 2011. Their songwriting skills were also recognized at the 2011 Ivor Novello's swiftly followed by a Barclaycard Mercury Prize nomination in the same year.
If 'Cough Cough' is any indication, 'Arc' will no doubt supersede all that Jonathan, Jeremy, Michael & Alex deservedly achieved with 'Man Alive'.

After a couple of low-key warm up dates in September and one exclusive festival appearance, Everything Everything are also pleased to announce details of their October tour.
Tickets go on sale @ 9am Friday August 31st
UK DATES:
13/09 Kasbah, Coventry
14/09 The Duchess, York
16/09 Festival No. 6, Portmeirion
21/10 Cockpit, Leeds – www.lunatickets.co.uk
22/10 Gorilla, Manchester – www.seetickets.com
23/10 Village Underground, London www.wegottickets.com
24/10 Rescue Rooms, Nottingham – www.alt-tickets.co.uk
26/10 King Tuts, Glasgow – www.gigsinscotland.com
http://www.facebook.com/EverythingEverythinguk
https://twitter.com/E_E_
http://www.everything-everything.co.uk/