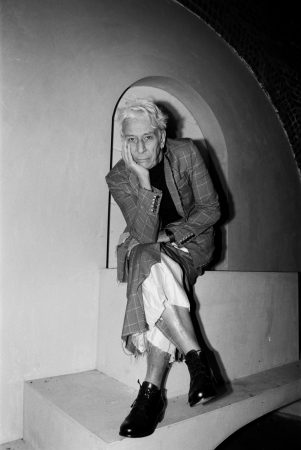 On Thursday night the legendary John Cale, perhaps mostly known for his role in one of the most iconic and influential acts of the 60s/70s – The Velvet Underground – played an eclectic set of classics and new jams to an intimate and lucky Albert Hall crowd.
This famous Manchester venue over the years has seen lots of sweaty evenings under the guise of indie rock, pop and even metal. Tonight however, with plastic chairs set in their slightly off kilter rows, a few hundred sat expectant as the reds and purples lit up the old organ pipes above the stage. A projector screen, ready to show some strange and sometimes squirming imagery, lay blank as an excited chatter floated above the heads of those in position, waiting.
Entering the stage through various cracks and holes Cale and his band began with "Jumbo in tha Modernworld". Moving on quickly to "Night Crawling" and "Moonstruck (Nico's Song)", a couple of new cuts from the latest record 'Mercy', there wasn't much head bobbing or over exuberance. More of a stay still or he might see us vibe. Whoos and applause ensued of course after every song had finished. I found myself rocking gently back and forth more vividly as the evening continued. I'm not well versed with a lot of Cale's work and admittedly I've only listened to 'Vintage Violence' and 'Paris 1919' once or twice but I will say I enjoy the dark undertones of his music greatly.
Further going on to play classics from the Cale catalogue such as 'Helen of Troy' and 'Guts', the man and his band were in top form. Mr. Cale is 81 years old and still performs with a swagger and ease most can only dream of. Of course the mobility is stiffer and the auras more stoic, yet the colours and shapes shown behind on the screen reminded everyone of Cale's alternative and unique aesthetics. A woman with a plastic mask seemingly melted on her face, a pile of rustling maggots and a whirring merry-go-round, it provided a haunting reminder of the seediness and uncanny valley like quality Cale's music can exude. 
His backing band, I'm sure made up of some shit hot and slick New York musical mages, were having a lot of fun too. A long haired bass man, a bald drummer, a guitarist, somewhere in between. He was certainly the tallest chap on the night. Like any side men however, their leader out-shadowed them by his mere presence alone. 
Despite being sat behind a keyboard and a book of his own words and/or music to guide him along, Cale was commanding on stage. Often looking back at the big guitar guy in particular and nodding/wobbling his noggin: he was in control. These are his songs and he wants them done right. I couldn't decide whether these glances were "do this", "what are you doing?" or "hell yeah, this shit rocks!" though. Over the hour and a half set it was probably a mixture of praises and stares of perplexity. 
After a few more newer songs such as "Out Your Window" and "Noise of You", John closed the set with "Villa Albani" to a river of cheers and hand smashing. Returning for a short yet sweet encore with a cover of The King's "Heartbreak Hotel", I was feeling satisfied. Not only had I once again laid eyes upon on a high priest of alternative music but I had also had an excellent evening in general. Made even better with a chicken club sandwich and a Cornish pasty on the train home. 
Unfortunately there was no rendition of "Venus In Furs" or my personal favourite "Dying On The Vine", but there was a reminder to me that Cale still has a bit of needle. A bit of spice.  A bit of something for a young music fan, often wowed by things not quite sitting in the mundane mainstream picture, to get their stained pegs into. I guess you had to be there to get it though.
Is right John.