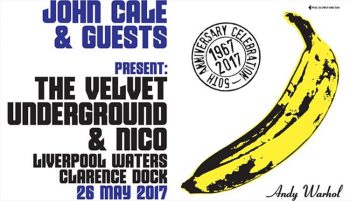 Global music legend John Cale has today announced the artists that will play live with him at his only European show – Liverpool Sound City, Friday 26th May 2017 – to celebrate the 50th anniversary of the revolutionary The Velvet Underground & Nico album. Joining him will be The Kills, Gruff Rhys, Clinic, Nadine Shah, Fat White Family, and Wild Beasts.
Hailed by The Guardian as the number one album "that changed music forever", ahead of even The Beatles and Sgt. Pepper's Lonely Hearts Club Band, The Velvet Underground & Nico aka the 'Banana' album (artwork by Andy Warhol) has also been lauded by both NME and Rolling Stone magazine as one of the 40 greatest albums of all time.
Veteran garage rockers The Kills have always cited The Velvet Underground as a major influence and have covered both 'Pale Blue Eyes' and 'Venus In Furs' in recent years. While Super Furry Animals frontman Gruff Rhys is also an early acolyte, having taken to The Velvet Underground as a young child when he mistakenly imagined them to be a Welsh punk-rock outfit, having heard John's accent on 'The Gift'.
Liverpool's own neo-psychedelic pioneers Clinic are nothing if not obvious collaborators for this show as doyens of the art-rock movement, and clearly influenced by the early experimentalists like The Velvet Underground, and Can. Sublime and sometimes sinister chanteuse Nadine Shah joins the line-up as the perfect Nico substitute, while the visceral Fat White Family will deliver the whirling chaos, and Wild Beasts will provide an art rock sensibility worthy of one of the world's most important albums.
On talking about the collaborators John Cale said: "It's such a privilege to have this calibre of artistry about — its not that they fit the legend, rather the legend is part of each of them. Stand back Liverpool – here we come!!"
This "reimagined" show will be staged on Friday 26th May at a bespoke open-air stage facing out to the Atlantic Ocean and New York City in the heart of Liverpool's historic docklands. An incredible post-industrial façade it is the ideal setting for the performance of a record forged in Warhol's arthouse crucible of 1960's New York.