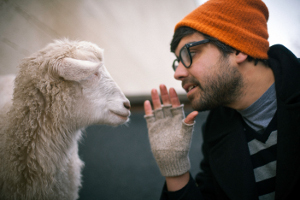 Dave Depper's album 'The Ram Project' was released on Monday, August 22nd on City Slang. Following on from the live video of 'Too Many People', we've got a live video of him performing 'Monkberry Moon Delight' with members of Musee Mecanique and Joan Hiller in Oregon earlier this year.
Initially only intended to be a personal venture, 'The Ram Project' – an album that sees Depper take on Paul McCartney's 'Ram' and re-recording it himself – soon became much more than that. Catching the attention of Portland's Jackpot Records along with Berlin's legendary City Slang, the local press took interest and the rest as they say, is history.
Having worked with other international that include the likes of The Decemberists, Mirah and the aforementioned Musee Mecanique, this was Depper's chance to do something for himself, and prove that he had the determination to complete his own solo project.