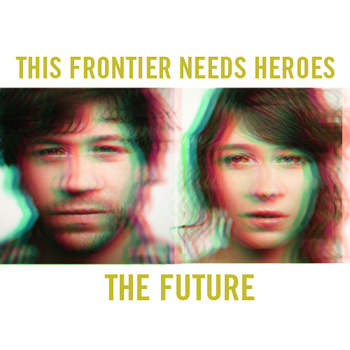 Named after Woody Guthrie's guitar scrawl during WWII, "This Machine Kills Fascists", This Frontier Needs Heroes is the Alt-Folk duo, Brad and Jessica Lauretti from Brooklyn, NY. Their songs are personal, honest stories of love, loss and longing for a better world.
Utilising Kickstarter donations from their growing fan base to fund their second album, The Future that you hold in your hands, the band decided to leave the studio for a more intimate approach, recording instead in an old school house in Wassaic, NY. Together with engineer Justin Pizzoferrato (MV & EE, Dinosaur Jr., Thurston Moore), Kath Bloom, and Jason Klauber from Acrylics (who appear as guest musicians), 'The Future' is a collection wild new songs about their rambling experiences and new visions about space, family, heroes, history, and dogs.
'The Future' also includes album art in 3D and will be shipped with 3D glasses.
Tour Dates
1-Sep – London The Windmill w/Cate Le Bon
2-Sep – Dorset End Of The Road Festival
5-Sep – Cardiff Buffalo Bar w/Cate Le Bon
6-Sep – Leicester Nine Bar w/Cate Le Bon
7-Sep – Coventry Taylor John's w/Cate Le Bon
8-Sep – Manchester The Castle Hotel w/Cate Le Bon
9-Sep – Sheffield The Heeley Institute w/Cate Le Bon
10-Sep – Glasgow O2 ABC