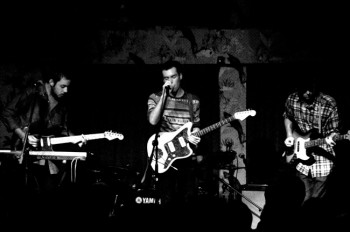 – THE DEAF INSTITUTE, MANCHESTER –
Now Wave have built a great reputation in Manchester, their events always appear to provide large crowds and great support acts to supplement their exciting, current and fresh headliners. Tonight is no exception, I've regrettably been unable to leave the house earlier due to too much Sunday roast and only catch the last two tunes from ∆.
If you type Alt-J on an Apple keyboard you get a ∆. I heard the band from Leeds on Steve Lamacq's BBC 6 Music show a few weeks ago and was delighted to see them on the lineup. They're distinctly lo-fi, the drummer has ditched his cymbals in favour of an upturned cooking pot. 'Tessellate' has a beautifully crafted melody, followed by the twistings and turnings of 'Breezeblock', which starts as a funky street skit and breaks into a harmonious and intricate amalgamation of deep bass, light xylophone and 80's computer game 8-bit filters. The lead singer sings "Please don't please don't go, I love you so I love you so" (not a KC & The Sunshine Band cover) in a nasal and interesting fashion, reminiscent of The Miserable Rich. The crowd loudly recognise their efforts and they very much appear to be ones to watch.
Locally based Londoner Pierre Hall fronts Manchester indie pop outfit Golden Glow, they immediately strike me as a band that I want to like, the 3 guitarists lineup in front of the emotive drummer, providing interesting riffs and changes. Their first tune is almost punk, a nicely coordinated key change promises great things, though something seems to be lacking. Quieter tunes remind me of I Am Kloot, but generally they're The Cure or The Smiths. Pierre's lyrics employ obvious punctuated rhyming, which would work if sung by the likes of Paul Weller… I feel his voice is at it's best when loaded with aggression and contains a strained rasp. A little reverb could go a long way. The understated moments for me, unfortunately, don't have enough about them to hold my interest, but at times it's thrilling. Onstage glances when the applause is lacklustre and relieved grins when there's more enthusiasm would imply a little more confidence is needed.
The stage is flooded with smoke, which is nice for the engineers who are trying to swap the instruments. The coast is clear by the time Wild Nothing take to the stage and they begin their set, bathed in red. They instantly sound fresh, again The Cure and The Smiths spring to mind with bright guitar riffs and moody bass. Singer Jack Tatum announces they're "happy to be back", the crowd are obviously glad to be here but possibly, if they're anything like me, the Sunday mood has been stifled further by too much chicken and gravy.
Taking a seat at the back appeared the ideal solution and allowed me to fully appreciate the set. Their songs are understated but also incredibly strong and absorbing. Two or three songs in, I become fully aware that what I am hearing is pretty incredible and effortlessly impressive. The title track from last years debut album 'Gemini' allows me to switch off my over analytical mind for a moment and just enjoy. They treat us to a new song, the name of which I didn't catch, which starts with a heavy drum beat and reminds me of The Shins.
Someone from the crowd asks Wild Nothing to "Do something funny!" Jack admits they're not really a funny band, though the drummers comedy drum roll and crash cymbal is enough to make me unexpectedly laugh out loud. My attention, however, slowly fades for a while. Tunes blend into each other and the girl with the broken leg and iPad is starting to draw interest. 'Summer Holiday' is a welcome, upbeat livener. Loudly shouting "oohh" during the chorus picks us all up a bit with Wu Lyf-esque heavy reverb guitar and rapid strumming.
They return for an encore and dedicate their final tune 'Golden Haze' to Golden Glow, who dance along happily in the corner throughout. There's a general sense of well being here, and although a combination of humidity, the fact it's a Sunday and the possible influence of Yorkshire puddings have kept the crowd quiet, it's apparent the gig was a resounding success from the buzz around the merch stall.