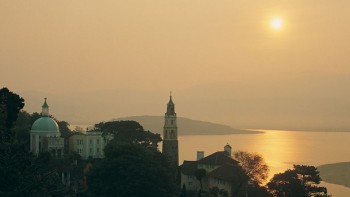 Festival No.6 have announced that they are teaming up with BBC Radio 6 Music as part of their Autumn Live Music Programme to transmit exclusive performances from some of the legendary and cutting edge acts performing at this year's event.
To celebrate New Order headlining the first year of the UK's newest festival and the Radio 6 Music partnership, the Brythoniad Male Voice Choir were commissioned by Festival No.6 to record an incredible, unique version of Blue Monday, the biggest selling 12" of all time. The 60 members of the Brythoniad Male Voice Choir, formed in 1964 in Blaenau Ffestiniog, squeezed in to the studio to record their interpretation of the seminal track, then filmed a stunning video in Portmeirion. The Brythoniad's amazing new version of Blue Monday reflects the mix of contemporary music and Welsh heritage behind Festival No.6 and the jaw-dropping location of Portmeirion, the most unique setting for a festival the UK has ever seen.
Live performances from the hugely influential New Order and Barclaycard Mercury Prize nominated Everything Everything will be included in a special Marc Riley Show on 16th September as part of a complete main stage take-over by the award winning radio station. Other acts to be included in this exciting show-case are The Invisible, Field Music and Gruff Rhys.
Alongside the live music programming, 6 Music will be drawing on the BBC's rich and unique archive to broadcast documentaries chronicling classic live music events as well as recordings from one-of-a-kind and iconic locations.
Gareth Cooper, festival organiser said: "We knew Festival No.6 was going to be special when we found the magical Portmeirion as a site. Having BBC 6 Music broadcasting live from the main stage in our first year is simply incredible, and such a perfect fit. It's going to be a fantastic experience for everyone involved."
Festival No. 6 is a brand new premium festival concept set in the eccentric surrounds of Portmeirion, where neo-classical architecture collides with sandy beaches and palm trees.
Bands, DJs, musicians and string ensembles will be performing across the entire site, from the Castell Gardens to the central piazza and picturesque bay. The diverse bill ranges from dance to Balearic, funk to folk, seashanties to Welsh male voice choirs.
The sleepy Welsh fantasyland, famous for being the set of cult 60's TV show 'The Prisoner', has never before hosted an event of such breadth and ambition.
Curated by the masterminds behind Snowbombing, The Warehouse Project, Lounge on the Farm, Parklife and the directors of Ear to the Ground Production, and Portmeirion Ltd., the festival places an emphasis on the quality of experience like no other.
Festival No.6 – 14th, 15th& 16th September 2012 – Portmeirion, Wales
The full daily line up, stage-by-stage, has now been released: http://www.festivalnumber6.com/music/lineupgfx
Stage No.6
New Order / Primal Scream / Spiritualized / Richard Hawley / Death In Vegas / Gruff Rhys / Everything Everything / Jessie Ware / Gold Panda / The Whip / Field Music / Eugene McGuinness / Cate Le Bon / Race Horses / The Invisible
The i Stage
Zulu Winter / Clock Opera / Kindness / Summer Camp / Ifan Dafydd / Dark Horses / Beth Jeans Houghton / King Krule / The Wave Pictures / Palma Violets / Paradise / Mary Epworth / Gang Colours / The Early Years / Lulu James / G R E A T W A V E S / Sweet Baboo / Jape / Splashh / Ncza/Lines / Marika Hackman / Famy
The Late Night Pavilion
Francois K / Derrick Carter / Erol Alkan / Horse Meat Disco / Luke Solomon / Optimo / Don Letts / Kelvin Brown / Will Tramp!
The Clough Williams-Ellis Stage
Mr Scruff / Andrew Weatherall / Sean Johnston / Unabombers / Daniele Baldelli / Jerry Dammers / Harri and Dom / Lowlife / PBR Streetgang
The Estuary Stage – Curated by Caught By The River and Faber Social
British Sea Power / King Creosote / Toy / Savages /Stealing Sheep / The Pictish Trail / Richard James / Roy Wilkinson / Rob Young and Peter Strickland / Charlie Boyer and The Voyeurs / Richard King / Jan Morris / Jeb Loy Nichols / Rob Chapman / Jonny Trunk / Elliot Eastwick / Ross Raisin / Richard Milward / Lucy Cooke / Y Niwl / The Kane Players / Will Burns / John Barlow / Stephen Morris and Kevin Cummins / Evie Wyld / Heavenly Jukebox / Dave Rofe
The Central Piazza
Simon Day / Maxine Peake / Tim Burgess / Stuart Maconie / Caitlin Moran / Mike Garry / John Niven / Grace Dent / Richard Hawley in conversation with Pete Paphides / Andrew Weatherall in conversation with Emma Warren / Marcus Brigstocke / Andre Vincent / Carrie Quinlan / Phill Jupitus / Gwendoline Riley / Joe Stretch / Bill Brewster / Frank Broughton / The Brythoniaid Welsh Male Voice Choir / Osadia / Upswing presenting Red Shoes
The Castell Gardens
Jon Carter / Jerry Dammers / Pete Herbert / Justin Robertson / Dub Pistols Sound System / Guy Williams / Joe Duddell with Rae Morris and The Rossi String Quartet / Sophie Lloyd / Russ Cuban / Aurora Percussion Duo / Serafina Steer / Tom Odell / Rachael Gladwin / Blonde Ambition / Original Score / Aficionado / Tempest Flute Trio / Absolution Jazz Quartet / Huw Morgan
Welsh Rare Beat 'Disc A Dawn' Stage
Meic Stevens / Y Niwl / Heather Jones / 9-Bach / Gruff Rhys / Euro Childs / R. Seiliog / H. Hawkline / Cate Le Bon / Andy Votel / Dyl Mei / Huw Evans
The Alfresco Ballroom
Electro Swing Club and White Mink – Electro Swing Club was the first club in the world to specialize in the sounds of 20's to 50's remixed. ESC has clubs world wide including Paris/Moscow/Istanbul and many more and was voted no. 2 club in the UK by Mixmag.
Balkanarama – From Scotland the leading mash up of gypsy, Balkan, kleizmer with dancers, live gypsy bands and DJ's
The Secret Woods Stage
The Eccentronic Research Council Feat. Maxine Peake / Jane Weaver Septieme Soeur / Supernatural Lancashire / Sean Canty / Andy Votel
Comedy
Phill Jupitus / Marcus Brigstocke / Andrew Maxwell / Tony Law / Paul Myrehaug / Andre Vincent / Benny Boot / Wade Mcelwain / Pete Cain / Wes Packer / Ben Van Der Velde / Carrie Quinlan
The Woodlands Raves:
Café Del Merrion
Dave Beer / Craig Shriston / Andy Whitaker / Tommy Thompson / Lukey P
Fat City and Red Laser Disco
Woody / Matt Triggs / Martin Brew / Il Bosco / MC Kwasi
Rompa's Reggae Shack and Shed
Rankoutsider / Gazziho / Kerfue / Daddy Nature / The Farm Yardies
We Light The Night
Atlas Burden / Alex Grzybowski / Stove
Sonic Cinema:
The Libertines: There Are No Innocent Bystanders – Presented by Carl Barat
The Chemical Brothers: Don't Think – Introduced by Director Adam Smith
The Beastie Boys: Awesome I Shot That
Planet Rock and Other Tales of The 808 (preview)
The Stone Boat
Horse Meat Disco / The Whip / Elliot Mess / Tayo / Sophie Lloyd / Red Jerry / Straightola / Jagz Kooner / Richard Hector