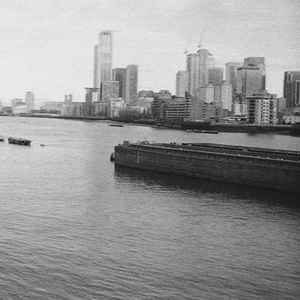 A distorted reality is very much like a reality that sits, squeals, blinds and disposes the necessary for the nuisance of a hollowed-out product. But enough about the year 2020! (devilishly fiendish pun Rich) more fresh music rumbling out the gates for our pleasure is where I am, regardless the day, time or year.
Girls In Synthesis are an incredibly new band to me. So, going into their full debut release 'Now Here's An Echo From Your Future', the opener 'Arterial Movements' is how I like an album to open. It's a taste of what you're going to get, which means little to no pissing about, it's introduced, it's next! Though in research I saw them being likened or influenced by 'Flipper', 'The Fall' and other post punk acts of the 1980's. I'll stick to suggesting that those elements are prevalent, but this is very much a fresh vibe that Girls In Synthesis want to shape as their own for now. We are in the now, moving forward with what we make (hmmm, sounds like the album title a tad).
Now, prior to listening to the album, I had heard their first single 'They're Not Listening' (which there is a video uploaded on Silent Radio) and I'm happy to say, it's probably not in the better songs of the album. This is a band trait I enjoy. A single made for a taster purpose only, serves to enrich bands as new people come to your music intrigued by what else you have on offer. Not to say 'They're Not Listening' is a bad song, but it is dwarfed in other offerings such as 'The Images Agree', 'Scrapped' and 'Coming Up For Air'.
I've fully enjoyed this! 'Now Here's An Echo From Your Future' is a fun, energetic debut that shouldn't be likened too much to bands from the past, and treated with an open mind of a band wanting to be part the future. Girls In Synthesis have enough going for them where they could appear on Download Festival, Reading and Leeds, Glastonbury, Latitude and Rebellion Festival in Blackpool, without them being out of place. Because Girls In Synthesis will be the place.
Girls In Synthesis: Now Here's An Echo From Your Future – Out 28th August 2020 (Harbinger Sound Records)