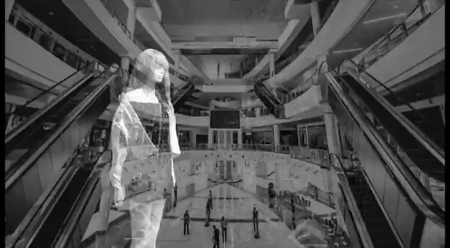 Bandante have unveiled their latest video 'So This is Now'. The project is a collaboration between Nick Cave and the Bad Seeds guitarist George Vjestica and artist Timothy Shepard.
Work on 'So This Is Now' began at Vale Studios with the recording of an instrumental piece written by Vjestica, who was joined on the track by Ian Matthews of Kasabian on drums, Nikolaj Torp of The Specials on Hammond and Mellotron, and Tim Hutton of Prodigy on horns.
Vjestica explains:
"I wanted the chorus to feel like a call to arms, to hear a cacophonous fanfare of blaring trumpets – a massive release, with a verse I wrote to be full of tension and suspense.
After the Vale Studio sessions, I got very busy with the Bad Seeds whilst the track I had recorded kind of went in the drawer. One morning in mid-June, during lockdown, while going through some playlists on my laptop, I found a file labelled, 'Protest/Revolt into Style/Vale Studio'. I put it on and was blown away. It sounded and felt like what was going on outside at the time when it seemed that an unstoppable momentum was building for a summer of protest.
I've known Tim for a while – he lives up the road from me in Notting Hill and we'd often meet for a coffee. Our conversations always ended up trying to figure out what the fuck was going on around all the talk of Trump, Brexit and the rest of it. This continued during lockdown over the phone. I asked Tim if he would make a short film set to this piece of music I'd recorded in Vale Studios, "it's all the stuff we've been talking about." I said. He chewed on it, I heard him draw hard on his E cigarette, pause and say to me in his laconic Bostonian drawl, 'Let's see'.
"He came back with what was, to me, a stunning piece of art. The music had the soul and the film, a 'visual lyric', had the mind and the conscience. It's a hopeful, sad yet defiant, audio/visual collaboration that, in some visceral way, reflects the times we are living in right now."
 Bandante Official | Twitter | Facebook | Instagram