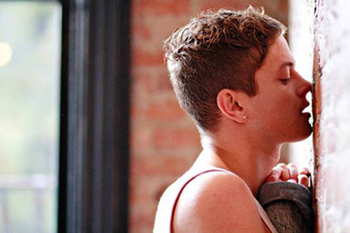 2012 has seen Perfume Genius, aka Seattle native Mike Hadreas, go steadily from strength to strength. His second album 'Put Your Back N2 It' saw him earn his biggest raves to date on both sides of the pond, with resulting tours across the UK and Europe selling out and effortlessly capturing audience's hearts. Add in supporters like Michael Stipe and Courtney Love, and his singularly beautiful videos for previous singles "Dark Parts" and "Hood" gaining over half a million views, and you have a musician who has undoubtedly consolidated his arrival as one of the most potent and unexpected new talents around.
Now Perfume Genius is releasing his third single "Take Me Home" – a jewel of a song whose upbeat, majestic pop sheen masks an unnerving undertow of emotional oblivion and desperation, as he says he will be "like a shadow of a shadow of a shadow…for you", like a man so eager to be loved that he will even annihilate his sense of self in the process.
To support the single, he will also be returning to the UK and Europe to play his biggest shows yet. Having recently supported the likes of The XX and Sigur Ros, Perfume Genius will now play select dates with Grizzly Bear in August, as well as a string of festivals and headline dates in the UK, including London's Union Chapel, on September 6.
Live Dates
August
28th – The Junction, Cambridge w/ Grizzly Bear
29th – Albert Hall, Nottingham w/ Grizzly Bear
30t – Brudenell Social Club, Leeds
31st – The Globe, Cardiff
September
1st – End of the Road, North Dorset
4th – SWG3, Glasgow
5th – Glee Club, Birmingham
6th – Union Chapel, London
The album 'Put Your Back N 2 It' is out now on Organs (Turnstile)