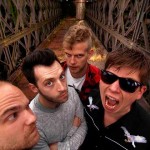 This Leeds band formed in 2008 and quickly earned a reputation as a formidable live act through aggressive, confrontational performances riddled with dark humour. Track titles from their forthcoming 2012 album back this up with names like 'I Can Confirm That Ruth Abigail Holmes Is Not Dead and Is Planning To Make a Movie About Her Life', 'Ask Yourself A Question If The Answer Is Go Fuck Yourself' and 'Nice Garden'.
Sounding a little like Deftones, Pixies and Rage Against The Machine, the chugging deep bassline provides a stable and solid foundation for Billy Mason Wood's delirious and angry rantings.
The 7″ 'Swords' is available as a free download (below). They have toured with Melt Banana, Rolo Tomassi and Chickenhawk amongst others, and are joining tours with Pulled Apart by Horses and Kong and playing Leeds and Reading Festivals.