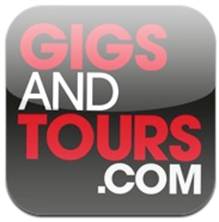 www.gigsandtours.com, the official website of two of the UK's leading promoters, SJM Concerts and Metropolis Music are pleased to announce the first release of the Gigs And Tours App on iPhone/iPad for users to keep up with tour news, gigs nearby and interact on social networks. This is the first ticketing App to launch from UK Concert Promoters.
It will allow users to get Gigsandtours on the go and means they will never miss out when artists announce live shows and the dates tickets go on sale. The App can be downloaded for free. As this is first release of the App, Gigsandtours aim to roll out across all platforms. Currently to develop the app Gigsandtours have asked for feedback on facebook and the best will get exclusive gig tickets in return.
The Gigsandtours app features:
· Gigs nearby – using your location to show you what's coming up in your area over the next few months
· Gigs and artist search engine linked to the website
· Up to the minute news of announcements and when tickets go onsale
· Everything social in one place so you can share your gig experience on Twitter and Facebook
· Watch interviews and tour videos on Gigsandtours YouTube channel
· A virtual lighter to use at your gig
The Gigsandtours roster is extensive and varied, covering lots of artists performing in the UK and all the major venues, so you won't have to go anywhere else to get the information you need. Gigsandtours covers every national venue from your local 200 capacity club through Academys, City Halls, Arenas and Stadiums.
The app can be downloaded via Itunes.