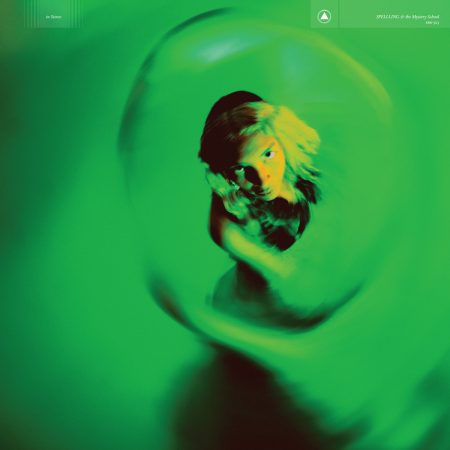 SPELLLING's 'The Turning Wheel' was one of 2021's happiest musical surprises. A record that was astonishing in its scope, a cosmic soul, alt-pop delight brimming with melodrama and personnel (31 collaborating musicians). It represented a huge leap from Chrystia Cabral's (who performs under the orthographically challenged name of SPELLLING) previous two smaller scale albums, 2017's 'Pantheon of Me' and 2019's synth driven 'Mazy Fly'. Having subsequently developed the songs from these three albums on her most recent tour, 'SPELLLING & the Mystery School' is an opportunity to track how they have morphed through live performance and introduce the new enhanced, heavily orchestrated versions.
The album contains 11 songs, taken almost equally from each album, although only three come from 'Mazy Fly', and are delivered in chronological order with a couple of exceptions. Inevitably, the songs from the earlier albums have received the most radical overhaul, starting with the opening track from 'Pantheon of Me', 'Walk up to Your House'. It begins with sinister sounding strings from the Del Sol Quartet, arranged with pizzazz by Ted Case. Giulio Xavier Cetto's bass throbs, Cabral pulls R'n'B acrobatics and threatens, "We're both the evil twin". It is instantly apparent that Cabral has a voice of extraordinary range but it is married to a musical adventurousness that pushes it to further heights. 'They Start the Dance' has great use of dynamics and pauses as bass takes prominence accompanied by percussion and pin-drop strings before full on orchestration heightens the emotional impact. 'Choke Cherry Horse' with its scrunching guitar and squelchy synths is the least immediately convincing track. In contrast, 'Phantom Farewell' has been reconfigured to blend synths, orchestration and layered voices, its dark fears exemplified by the lines "Paranoia, a pantheon of hiding gods… Paranoia, a pantheon of hiding gifs".
'Mazy Fly' revealed a fascination with technology and how its possibilities were often undermined by dystopian uses. A cosmic prayer for good fortune, 'Under the Sun' begins with Jaren Feeley's dramatic piano intro, quickly incorporates strings while synth squiggles give the song a sci-fi sheen. 'Haunted Water' sees the synths that dominated the original version fleshed out by strings and strange beat patterns. It is a song about memories of colonial violence that haunt the slave ship routes of the Middle Passage and offers one of her most outstanding vocal performances. 'Hard to Please (Reprise)' is a beautifully arranged ballad with a gorgeous jazzy piano melody, Cabral's voice recalling Solange and 'Come to my Garden' era Minnie Ripperton, two of the highest (in both senses of the word) touchpoints and working excellently in counterpoint to backing vocalists, Toya Willock and Dharma Moon-Hunter.
The concluding section is taken from 'The Turning Wheel' and commences with 'Boys at School' which was already one of its most epic songs.  In the updated version, the tension of stilled piano and strings adds to the anticipation of what is to be let loose in a story of standing on the cusp of 16, desire and loneliness. As the song reaches its climax, Wyatt Overson's heavy guitar line rolls over the top of full orchestration. The new interpretation of 'Always' adds to the drama with Feeley's solitary piano accompanying Cabral on the opening verse as she begs, "Please don't steal my heart / Don't make me start all over again / Please don't hurt my pride", a highly conventional song sentiment but given great force in this setting as the melodrama boils to scolding point. In its narrative about trying to find a place of completion while resisting the matrix of exploitation and the false narrative of growing up ("what I want is a fire that never goes out"), 'Revolution' throws in Latin rhythms and an African-inflected guitar skip to its soulful and celebratory blend. 'SPELLLING & the Mystery School' concludes with the comparatively restrained 'Sweet Talk' which beautifully emphasises the piano and vocal combination.
While these last four tracks bear the closest resemblance to the original recordings, they still offer examples of how live performance has enabled SPELLLING to hone the drama of these songs to the finest point. The album both stands on its own and serves as a primer prior to the release of new material next year, an album that has confidently reserved its place among the most anticipated releases of 2024.
SPELLLING – SPELLLING & the Mystery School – Out 25th August 2023 (Sacred Bones)