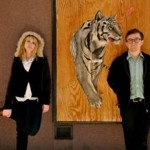 With their latest album 'Civilian' released to widespread applaud earlier this year, their latest single 'Holy Holy' currently in heavy radio rotation and having recently sold out their second ever London headline show in the blink of an eye, Baltimore's WYE OAK have just confirmed lots more European tour dates and are giving 'Holy Holy' away for free.
This will be their fourth trip to the UK this year, having tour with Johnny, Cold War Kids and most recently flying by London for an avid, packed out London crowd which marked just how far the duo of Jenn Wasner and Andy Stack have come in 2011.
To celebrate, the band are giving away single & current hit at radio, 'Holy Holy'.
'Civilian', released earlier this year through City Slang, is Wye Oak's third. Just as good writing has meaning between the lines, Civilian attempts meaning between the sounds: the combinations of harmonies, timbres, and words try to summon vivid and ineffable associations just beyond reach.
Jenn sums up the meaning of the album saying, "this collection of songs is called Civilian because I believe everyone wants to be normal, but no one truly is."
Tour Dates:
Aug 22 Manchester Ruby Lounge
Aug 23 Edinburgh Corn Exchange (w/The National)
Aug 24 Glasgow Academy (w/The National)
Nov 3 Germany Berlin Lido
Nov 4 Denmark Copenhagen Huset Magstraede
Nov 5 Sweden Stockholm Debaser
Nov 6 Norway Oslo Mono
Nov 8 Germany Munster Gleis 22
Nov 9 Germany Heidelberg Karlstorbahnof
Nov 10 Switzerland Friboug Fri-Son
Nov 11 Italy Milan Salumeria Della Musica
Nov 12 France Toulouse Saint Des Seins
Nov 13 Spain San Sebastien Kontadores
Nov 15 Spain Barcelona Sidecar
Nov 17 Germany Koln Gebaude
Nov 18 Luxembourg Luxembourg Rockhal Café
Nov 19 Netherlands Den Haag Crossing Border Festival
Nov 20 Belgium Antwerp Crossing Border Festival
Nov 21 France Paris Point Ephemere
Nov 22 London XOYO