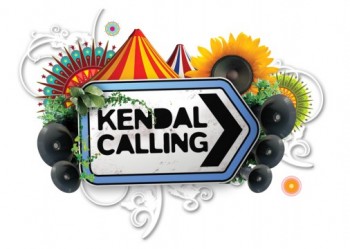 – LOWTHER DEER PARK, PENRITH –
The last day blues that the weekend is almost is over are now upon me, but at the same time thoughts of home comforts are also crossing my mind. As I meander past the main stage Erland and the Carnival are making sure that any overnight cobwebs are blown away.
Micky P Kerr is an act I stumbled across last year and am glad to see he is here again this time round. The Calling Out marquee has a good turnout for this early slot and as the rain starts it fills a little more. Kerr is talented in many ways and gives an array of his poetry, song writing skills and immense comedic arrogance, which is clearly evident in the song 'I'm not arrogant, I'm just better than you'. For 'Banned From Morrisons' he is joined on the stage by a five year old called Freddie that helps with the chorus.
Another recommended act is next for me at the Band on the Wall curated Kaylied stage; they are Stan's Magic Foot. The tent is not that full at this moment in time, but their self described Gypsyklezmertangofolk is so infectious that no-one can walk past without coming inside, so it's not long before the numbers have massively increased.
The first song is a rollercoaster tango with lots "La la la laa's" that has a few people dancing around. As the tracks flow the tempo speeds up as we go, covers of Madness' 'One Step Beyond', Kelis' 'Milkshake' and Cypress Hill's 'Insane in the Membrane' are getting almost everyone on their feet and smiling like Cheshire cats. But as they launch into Rage Against the Machine's 'Killing in the Name Of' you can almost feel the littered floor shake under your feet. If you've never heard this song done on a double bass, acoustic guitar and a fiddle, then you haven't enjoyed it at its best.
At six o'clock I'm informed that Badly Drawn Boy is going to be doing a spot on the decks at the House Party tent, so promptly head straight over there. I've now been hanging around for over an hour and finally decide that it's not going to happen.
My last remaining hours of the weekend are to be spent in the Kaylied tent, and first on are The Lancashire Hotpots. The place is rammed with chants of "Lancashire naa naa naa" filling the air. When Bernard & Co emerge from backstage the whole place erupts. Each and every song, such as 'Chippy Tea', 'I Fear Ikea', 'He's Turned Emo' and 'Shopmobility Scooter' are sung along with word for word. The Hotpots are defiantly feeling the love in fields tonight.
The guys behind Kendal Calling struck gold last year when they booked Craig Charles' to bring his 6 Music Funk and Soul Show to close the proceedings, and have once again made the right decision in bringing him back. Once again he manages to make sure that everyone dances away their final hours and minutes of the festival with his choice picks from his Trunk of Funk.