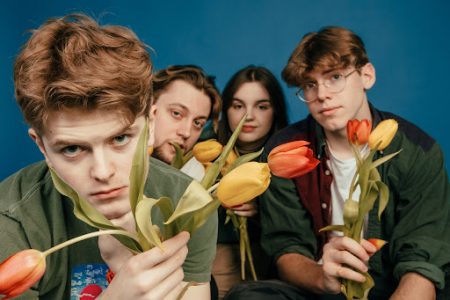 Taking their cues from the likes of Sam Fender and Fleetwood Mac amongst others, indie-pop four piece South By Zero have been steadily gaining a following in Manchester and beyond, thanks to a stunning debut EP and recently released single 'Open Arms'. The band play The Deaf Institute Lodge on 7th October 2023.
Who are you?
South by Zero
Who's in the band and what do they play?
The band's made up of four people. We have me (Matt Bawtree – lead guitarist and lead vocalist), Emma Halpin (Keys and vocals), George Burton (Rhythm guitar and vocals), and Tomas (Faz) Farrington (Drums).
How long have you been doing what you're doing now?
George and I have been playing together since around year 10 at school, and we met Faz in 2021 but as the current setup we've been playing together for around 8 months now.
Tell us about the writing and recording of your latest single 'Open Arms'
I wrote the song towards the end of 2021, it originally started out as a single vocal and acoustic guitar, sounding quite folky, but it gradually shifted into more of an electric guitar, guns blazing rock number. However, when we finally came around to recording it for real we'd gone through quite a serious aesthetic change within the band, and we wanted to express more of the acoustic-y feel. We were very happy with how it turned out!
What's the best advice you've been given in your musical career so far?
Never apologise before you've played to an audience (an example would be: hey guys I'm so sorry I've got a cold my voice is awful today'). It's probably the worst thing you can do as a performer as nobody ever notices whether you're at your best or not. You don't want the audience to feel sorry for you either! They're there to have a good time!
What's the biggest lesson you've learned as a musician?
If a song is not good on an acoustic guitar or piano, it's still probably not going to be good when you've recorded 100 parts over it.
Is being a musician your full-time job, if not, how easy/tricky is it to juggle work and band life?
Currently it is my 'job' if you will. I do occasionally work odd jobs here and there but I'm fortunate enough to be sponging off my family for the next few years. Right now, a lot of my money comes from busking and gigs. So South by Zero is my full-time job yes!
Are there any obvious influences in your music?
I spend a lot of my time listening to live versions of songs by my favourite artists, I always want to create a feeling of playing live in the recording stage, similar to how older bands like the Beatles or Fleetwood Mac would have recorded back in the day due to limited equipment. This also includes a reduction in instrumentation compared with the average hyper pop track that you may come across on the radio (trying not to sound pretentious I promise). I love it when each part has its own sort of personality, but doesn't interfere with the other musical elements, they all work together to bring the piece to life.
Are there any not so obvious influences in your music?
I would say that a lot of my songwriting and lyrical inspiration comes from artists such as Sam Fender, Fleetwood Mac, Talking Heads and so forth. I did (and still) spend a lot of time listening to John Mayer who influenced me most as a guitar player and songwriter I would say. But as the four of us we take references from all over!
Apart from yourself of course, which other band/artist would you recommend our readers check out?
Maddison Cunningham is one of our favourite artists at the minute. There's also a small Manchester based artist called Matt Woodman who makes some great music!
Tell us about the defining moment where you thought 'Yes, I want to be a musician'.
I suppose it felt like I didn't have much choice really, it was either try to become an actor, musician, or join the army. Being a musician I went off the idea of joining the army quite quickly. If there was a defining moment, I suppose it would have been when I started recording music with George when we were in year 12 and got relatively positive feedback from everyone! But I think I always knew that I wanted to perform within some sort of capacity.
What's your favourite gig venue as a gig goer and where is it?
Currently I think its Band on the Wall in Manchester, it's probably the coolest looking venue I've seen bands perform at. I just love how big the stage is!
Who, in your wildest dreams would you like to collaborate with/be produced by and why?
I've always wanted to work with Steve Lillywhite, based off his work with the La's, XTC and Talking Heads. I think if we could collaborate with him, we would have an extremely special sounding record on our hands. I think I'd also love to work with George Daniel from the 1975, I think all his stuff sounds incredible as well. I'd love to work with Max Martin, Quincy Jones, we have so many names of people who we adore and would love to work with.
You've got live dates this autumn, tell us about how you prepare for gigs and what we can expect from a South By Zero live show?
You can expect a great night of folk pop bangers from the best instrumentalists and songwriters that I know! Our gig preparations usually include practicing, rehearsals, a mental breakdown from at least one member and a routine spoons trip for a debrief.
Best place for people to find out what you are up to?
Instagram and Spotify are probably your best bets, we are also on Twitter, Apple Music and YouTube to name a few others!
Anything to declare?
New music coming soon!
South By Zero: Live Date – The Deaf Institute Lodge: 7th October 2023