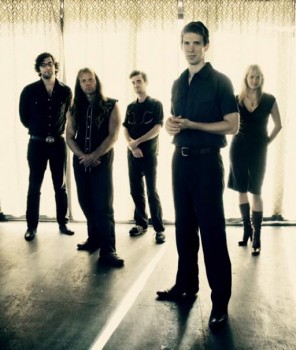 – THE DEAF INSTITUTE, MANCHESTER –
So the summer is here at last, the festival season is under way and it usually means the best of the bands are off all over the world playing to sell out crowds of weekend camp stars. So you could imagine that the chance to see a quality acts would only happen at said events…You'd be wrong
So as I fought my way through the glorious summer weather (it was pissing it down) to a venue that I'd never attended but heard such good things about, the only thing on my mind was it better be worth me getting soggy pants!
So to the Deaf institute wet pants and all to see Shearwater, this there second visit to the city this year to share their austere sound with the people once again.
Proceedings got under way with a little help from a young pianist from Berlin, Nils Frahm opened the show with his wonderful and original piano skills, somewhat classical but exciting. It held the attention with its modern experimental edge and set the tone perfectly for what was about to follow.
Meiburg opened the show in sterling fashion, Meridian the first track off the new album and the start point for tonight was almost painfully nostalgic, confident and powerful, Meiburg draws from his studies and travels for this latest work, a portrait of island life. As the show gathers speed you almost feel you are island hopping, with Meiburg at the helm of the expedition.
It was easy to see that the band as a whole are extremely talented, each chopping and changing their role on stage. One such event stuck with me, Kimberly Burke (Meiburgs ex-wife) and Thor Harris ditched the bass and drums to partake in a beautiful xylophone duet, and this was met with joyous applause. One of the lighter moments of the evening.
The subject matter tackled by Meiburg are very well suited to his vocal talent, He almost paints an aural image of man raging at the elements, Purposely fragile at times, serene and sublime…Then without warning they seemed to burst into life with a little help from the god of drums Thor Harris.
Simply a beautiful evening, lyrically poetic combining words and melody with a balance of ugly and pretty. Like Mother Nature herself there music holds so many secrets.
Well worth the wet pants.