Anglo-Swedish three-piece King Casio have released their debut single 'B.B.B.C (Big Black Black Black Cloud)' from upcoming debut album 'Quiet Times with King Casio'. The band are made up of Aaron King on keys and lead vocals, Sean Bean on drums and lead vocals and Petter Grevelius on bass. Sean Bean and Petter Grevelius are also one half of Francobollo.
We managed to ask Aaron a few questions ahead of the release.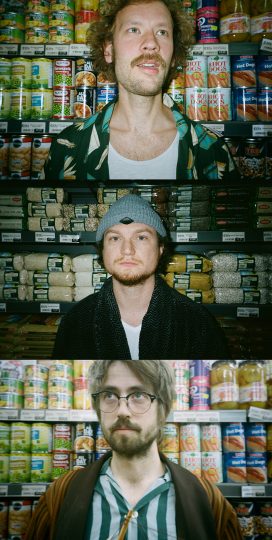 If you could engineer the ideal situation for a prospective fan to be introduced to King Casio, what would that look like?
I'd like them to listen to all our songs together , as they're quite short and I feel they all fit together thanks to Petter's artistry as a producer.
How has the international shutdown of live music affected your plans as a band?
We haven't been able to do any shows which sucked. But it also allowed us to leave the songs alone for a while, which helped us appreciate them again, so it's been bittersweet.
Do you think there are any strong non-music influences on your songwriting?
Yes, I'm afraid of sounding pretentious here, but I think moods, anxiety, the weather and love are probably most of them haha.
Is there a common process that you follow for the creation of a new song?
We tend to start with an idea of a song, and then we like to mess it up a bit, make things sound out of tune etc.  But the way a song is written seems to be different every time.
What should we expect next from King Casio?
We have an album's worth of material finished, so ideally, it would be nice to release some more songs and then maybe finally release an album.
Is there anything you'd like to declare to the world?
Yes, please don't vote for the tories again, or any other parties that are of a similar ilk around the world. That would be great.