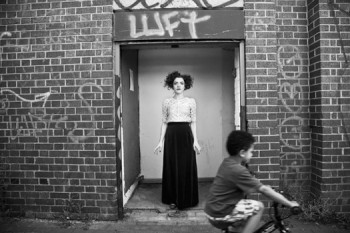 On August 28th Swedish musical force of nature Cornelia presents 'Stormy Weather' on Exceptional / Camp Mozart records.
Although no two of Cornelia's inventive records sound the same, 'Stormy Weather' exemplifies her eerily beautiful, off-kilter electronic pop and sweet, spectral vocals.
Her voice and originality has won friends in high places: in a short space of time, Cornelia penned two songs for Markus Enochson (Sonar Kollektiv), plus she wrote and sung on 'Steepless', taken from the highly-acclaimed Portico Quartet album.
If that wasn't enough of an auspicious start, Cornelia also wowed the bass lynchpin Scratcha DVA, who invited her to perform on his Rinse FM Grimey Breakfast Show. She then co wrote, produced and sung on 'Pretty Ugly' (the title track from DVA's debut album), which was described by Mary Anne Hobbs as "a beautiful track with a dazzling sound". Super producer-songwriter Guy Sigsworth (who has worked with Björk, Goldie and David Sylvian) exclaimed her to be "wonderful".
'Aquarius Dreams' Circle Traps Remix
Cornelia Dahlgren participated in the first season of Swedish Idol but dropped out of the show in the final stages upon deciding the manufactured approach wasn't for her. As a result she founded the label Camp Mozart and began crafting esoteric and elemental sounds.
Tracklisting:
1. 'Stormy Weather' – original // 2. 'Stormy Weather' – (Daisuke Tanabe RPG Mix) / 3: 'Aquarius Dreams' – (Circle Traps remix)