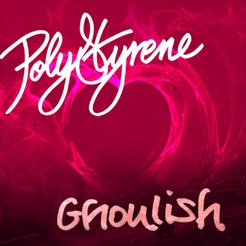 Although Poly Styrene tragically succumbed to cancer in April, she had thankfully finished recording her Generation Indigo album before being diagnosed, thus providing the 21st century with one of its defining statements, in similar fashion to her uncannily clairvoyant X-Ray Spex missives of the punk era.
Following the computer-age 'Virtual Boyfriend', which trailered the album as first single, comes 'Ghoulish'; sadly Poly's first posthumous single.
Generation Indigo showed Poly as lyrically incisive, still reflecting and commenting on the modern world, from lifestyle and technology to human traits and relationships. The panoramic musical backdrops are bold and brash and sometimes sensually insidious.
The song represents Poly's compassionate spirit and lifelong talent for tackling unusual but glaring subject matter, often fuelled by her fixation with watching the TV news. 'Ghoulish' was inspired by Michael Jackson, seeing through his 'crimson lips 'n' charcoal eyes' to declare, 'I can see you're quite a nice guy'. Speaking before the album's release, Poly explained how she had found Jacko's white face and makeup ghoulish, but 'I could see that he was probably a nice guy…I never met him, but he seemed soft-spoken and gentle. It was all over the media and I thought I would write that song, but it could be about any goth guy.'
The video is replete with Michael Jackson impersonators, some more comical than others, as Michael was the inspiration for the song. The video, directed by Lauryn Siegel, also features actress Gabby Hoffman.
The single version comes with a remix from New York's Hercules & Love Affair, aka Andy Butler, who drapes Poly's vocals over an exquisite Moroder-meets-acid house groove, with cliff-hanger drops and voluptuous peaks.