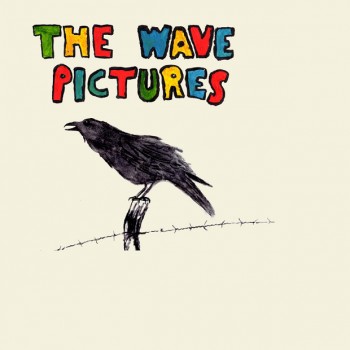 Last year, The Wave Pictures spent 6 weeks driving around America in a small van with Allo Darlin'. The result of this trip is their fifth studio album – the double album 'City Forgiveness' released via Moshi Moshi on October 21st."We visited Hank Williams' house and Billy The Kid's grave, watched the Golden Gate bridge disappear into the clouds, and had our frisbee confiscated by a cop. We played some great shows together, and we became good friends, and we drove and we drove and we drove and we drove" explains vocalist and lyricist Dave Tattersall.
Whist they drove Tattersall scribbled in a notebook – "anything that popped into my head" and on his return found "a few hundred crumpled well-travelled pages in at the bottom of my bag."
These crumpled notes formed the basis of City Forgiveness and in Wave Pictures typically prolific style, Tattersall wrote twenty songs in "a very jet-lagged and confused week."
They clearly had a double album on their hands; not a concept album about America so much as a testament to the way that travel excites the imagination. The title came to Tattersall in a dream and reminds him of "City Lights; the Charlie Chaplin movie and the Los Angeles company who published Allen Ginsberg's 'Howl'."
The Wave Pictures took a trip to Toe Rag Studios to record this exclusive footage of The Woods, taken fromCity Forgiveness. The song is inspired by a myriad of touring experiences – both good and bad – "visiting the Buddy Holly museum, playing pool with locals, sleeping on mattresses infested with the cocoons of black widow spiders….", it's typical of Tattersall's wry observational style. Watch it below..
Ahead of the album's release, The Wave Pictures hit the road for an extensive UK tour with a headlining show at London's Jazz Café on November 13th
SEPTEMBER
11 – CAMBRIDGE, Portland Arms
12 – CARDIFF, Full Moon Club
13- NOTTINGHAM, Spankys
14 – FESTIVAL No. 6 – PORTMEIRON
15 – BRISTOL, Lousiana
18 – LEICESTER, The Musician
19 – LIVERPOOL, Kazimar
20 – EDINBURGH, The Pleasure Theatre
22 – GLASGOW – Mono
23 – NEWCASTLE, Cluny
24 – PRESTON, tbc
25 – HULL, The Adelphi
26 – LEEDS, Brudenell
27 – MANCHESTER, Soup Kitchen
28 – BRIGHTON, The Haunt
 NOVEMBER
13 – LONDON, Jazz Café
CONNECT WITH THE WAVE PICTURES: Official | Facebook | Twitter