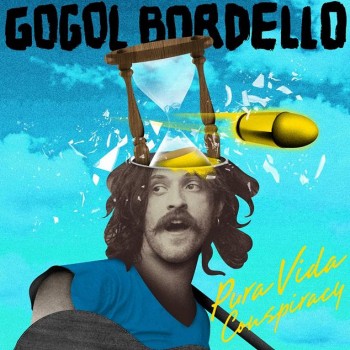 In the off chance that you haven't heard of Gogol Bordello, I'll let this one slide. For almost fifteen years, this eight-piece NYC gypsy punk outfit have blended a range of global influences, mainly circling around Eastern European and Latin music, into one big "clusterpunk" of hustling and bustling ethnic sound. With an orchestra of members ranging from countries like Ethiopia, Scotland, Ukraine and Russia, this band wouldn't have that certain immigrant spark without a variety of ethnicities combined. Gogol fans know what I mean when I say that there is nothing quite like a live show: bouncing, twirling and dancing in unison to the gypsy punk parade on stage. It's like the best backyard family reunion you've ever been to, and I know well enough because I've seen this band more times than I can down shots of homemade Ukrainian vodka, which believe me is harder than it looks.
Gogol Bordello's sixth effort Pura Vida Conspiracy begins with the appropriately titled anthemic 'We Rise Again', which surfaces the tone for an album that many have been anticipating since the band's 2010 release Trans-Continental Hustle, one that had so many a gypsy punk singing "Lela lela lela! Lela pala tute!" until earmuffs became a household necessity for non-Gogol listeners.
Continuing on the gypsy road trip is the punky timebomb sing-a-long 'Dig Deep Enough', followed by 'Malandrino', which was the first track off the new record to be released and is a surprisingly dull one at that. Compared to some of the band's better releases that you might recognize like 'Start Wearing Purple', 'Illumination' and 'Wonderlust King', this stroll through Little Italy feels overdone, but to be fair could be a lot of fun if played live.
Pura Vida is by no means a concept album, but infuses ideas rooted in Eastern philosophy and is incorporated with frontman Eugene Hütz's experiences living in Brazil. With a blend of acoustics and rhythm guitar, the album's output only grows with 'Lost Innocent World': "Lost innocent paradise, where did you go?/Once I get you back I'll never sacrifice" serenades the unforgettable broken English of Hütz. His captivating, my-crazy-Uncle storytelling in 'John The Conqueror' is backed by a fierce set of percussions and more shouty singing that drives the track forward to the very end.
The infectious flight of 'Gypsy Auto Pilot' caught my attention within seconds of play, a mean accordion and even meatier violin both rumble and tumble alongside one another to create what I profess is one of the strongest and most engaging songs on the album. Within reach of traditional Romani folk and punk aesthetics alike, 'Rainbow' is a colourful midway treat that will have you singing "I've seen the other side of rainbow and it was black and white" in your best Eastern European accent.
Pura Vida Conspiracy is a spitball of punk cabaret at its finest. Gogol fans will appreciate the indestructible nature of this band as always, and be thrilled at the heart-attack hidden track on 'We Shall Sail' (oops, spoiler alert.) There is no doubt that Hütz and his Gypsy Rockers have pegged a sound of their own over the course of their fifteen year run, but it's in the way that they continue to expand and grab the attention of new listeners along the way without having to completely reinvent themselves that is impressive. Although the album only has a few A+ replays on it, you'll still catch me in the crowd at their Manchester Academy gig December 14th.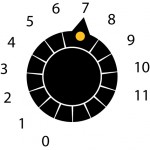 Release Date 22/07/2013 (ATO)