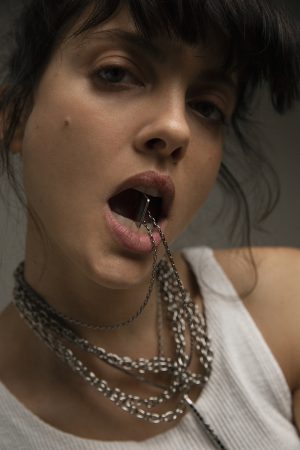 Tel-Aviv based artist Noga Erez has shared an alternative version of her recent single 'NO news on TV', the second single to be taken from her yet to be released second album. The song was written by Erez and her partner Ori Rousso during the COVID-19 pandemic while producing and writing for the upcoming album.
This new live version continues the "Kids Against The Machine" series, following a similarly styled reworking of previous single 'VIEWS'. Erez explains:
"The idea was not to use any 'machines'. No computer, no electronic instruments. We filmed the sessions in February when everything was planned out. And then, you know, I don't have to tell you what happened in March. While in quarantine we wrote 'NO news on TV' and decided to release it and push all the other singles to later. So, our "Kids Against The Machine" version had to be produced under the new circumstances, with new limitations.
We were able to gather musicians who were able to learn it really quickly and without rehearsing in a group. We found a great location but when we arrived at the location the morning of the shoot, we walked in to find closed doors and a location owner that had changed their mind. Ori, myself, a group of 10 musicians and filming crew all took the crazy amount of equipment to the apartment of a person who lives in that building. So, these musicians aren't just a bunch of people who came to play the gig and do their thing – they each saved our life that day! So, 'No news on TV' live from the KATM sessions was not at all we expected it to be, and we love it so much!"
 Noga Erez Official | Twitter | Facebook | Instagram