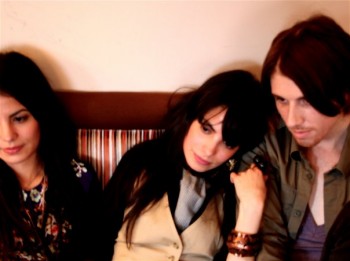 – THE RUBY LOUNGE, MANCHESTER –
Signed to the techno label Ghostly International, Dream Pop purveyors, School of Seven Bells, seem unlikely candidates to be on such a label.
But look beyond the choral harmonies of sisters, Alenjdra and Claudia Deheza and you will find jangly guitars and spiky synthesizers which give their songs a pulsating rhythm and complement each other in a pear and blue cheese kind of way, meaning, it shouldn't go together, but it does.
To continue the food metaphor just that little bit further, (sorry) despite pears and blue cheese being a pretty unique flavour, it is not entirely new; There is a definite sense that The School of Seven Bells are one in a long line of Dream Pop/ Shoe gaze bands, most notably the Cocteau Twins, with, Robin Guthrie from the Cocteau twins actually remixing a version of My Cabal.
As I enter the Ruby Lounge, the School of Seven Bells are playing Half Asleep and, unlike the last gig I went to in Manchester, the lack of students has not stopped there being a full house. To gain a better look I grab a stool and balance precariously on it.
I look round to see if anyone will congratulate me on being so resourceful but most of the crowd are totally engaged in the music, standing static, apart from the odd head nodder, the most loyal of which, being the men.
The haunting vocals of the two sisters complimented by their looks, conveys a dramatic image and they seem to play up to this, acting mournful to increase the effect of the music.
The spiky guitars/ dreamy vocals mix is alternated so that, sometimes, it is the lyrics which take on a dark tone, while the music behind it remains comparably light. This is what makes their music interesting; it is not one unified impression. Tones and rhythms are all jumbled up together.
The gig ends to rapturous applause and there are very vocal requests for 'one more tune' after the encore. The man in front of me reminds the band, as they trundle off, that, "I asked for two more" but it seems that for tonight, it is time to wake up.
After the gig we stand outside to wait for the rain to pass and overhear a man talking about the gig, he says he didn't "get" the music and there was nothing to "get him going".
Not only did he, make me, like them more, it made me think that there is little wrong with not understanding something. What is there to "get"? This is music, not a quadratic equation.
Making songs, without a recognisable form or shape can make them more interesting and a whole lot less predictable. It can also make a rainy Tuesday in Manchester a lot more bearable.