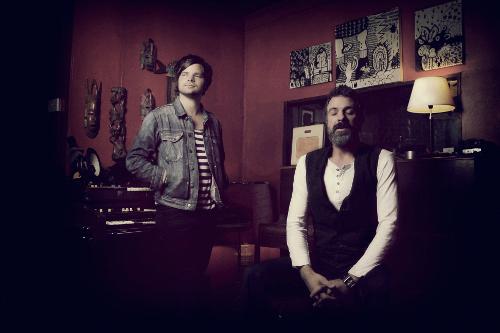 Following a string of successful shows and support from Lauren Laverne and Marc Riley, The Futureheads' side-project Hyde & Beast have announced that their debut album, 'Slow Down' will be released on August 15th on their very own label, Tail Feather Records!
One week before on August 8th, the single 'Never Come Back' will be released on the same label.
Complete with a mysterious masked dancer and clever camera trickery, the video leaves the raw rock'n'roll  honesty of '(And the) Pictures in the Sky' behind and plays up to the psychedelic, 60s-inspired side to the duo, polished off with a stylish, avant-garde edge.
'Slow Down' came about almost by accident with Hyde emerging from behind his usual place behind the drum-kit with The Futureheads to take on vocals and both Hyde & Beast writing, recording, producing and mixing the album themselves, resulting in a very special project born out of a labour of love and a wonderful detour from the pair's usual musical output.
Recorded at Beast's Sunderland studio at the rate of one song a day, familiar faces stepped in to assist – Field Music's David Brewis and solo artist Lucas Renney provided some beautiful bass and guitar on two tracks 'Lord, Send For Me' and 'You Will Be Lonely'.
A sprawling, gentle psychedelic meander, 'Slow Down' harks back to a more experimental approach to song-writing, with some of the songs seemingly writing themselves as they recorded live in the studio. Inspired by the music Hyde & Beast love listening to, 'Slow Down' recalls a golden age of mainstream pop meeting the sonic adventurism and kaleidoscopic music from the late '60s and early '70s, with more than a nod to the greats of that era Captain Beefheart, Velvet Underground and T Rex.  
You can catch Hyde & Beast playing the following shows this Summer:
July 30th: Sunderland, Independent                           
August 7th: Newcastle, Ignition Festival
September 18th: Sunderland, Split Festival