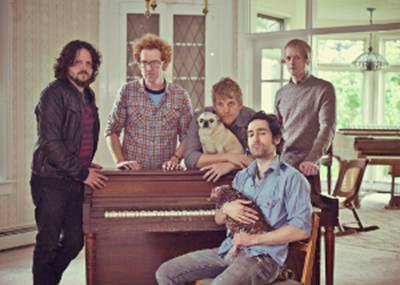 The Portland quintet just recently confirmed that this, their sixth studio album 'American Goldwing', will be released on September 12th – their third release for the ever brilliant Sub Pop Records. Full of the introspective and striking storytelling that countless critics have fallen in love with, Blitzen Trapper consider subjects ranging from falling in love to drug running good old boys and the final high school dance, 'American Goldwing' is a freewheeling collection that balances the roughness of rock 'n' roll with fateful heartfelt loss.
"American Goldwing is us letting our loves and early influences hang out for all to see. We entered into the sounds we grew up with – the hard guitar rock and country picking of our younger years mixed with glimmers of our usual space-aging technology and pawn shop Casios" explains vocalist Mark Earley. Continuing to bring their love for classic American rock'n'roll into the 21st century, this album is by Earley's own admission"heavy guitar riffs and blasting drum fills live side-by-side with plucking banjos, wailing harmonicas and muddy slide guitars. The earthiness of these songs will make you want to get loaded and get in a fight, or find a girl and fall in love forever, simultaneously."
If you haven't seen it already, check out the trailer for 'American Goldwing' here:www.youtube.com/watch?v=2yWf1GYFtpE
Blitzen Trapper will be coming to the UK soon, so stay tuned for more details.