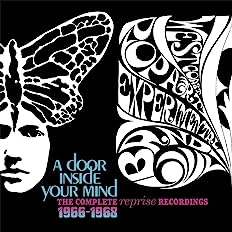 The West Coast Pop Art Experimental Band were part of the 60's psych explosion emerging from California, who melded brilliant harmonies with folk rock riffs. The three albums the band recorded for Reprise Records, 'Part One', 'Vol 2' and 'A Child's Guide To Good And Evil' are contained within this box set, as well as plenty of extras along with the ubiquitous full colour 40 page booklet. 
With a lot of bands from the 60's Californian psychedelic scene, there's a tendency to think everyone was off their face on top notch acid, (just watch documentaries on the 60s festivals and everyone is wafting around like wildflowers in a country field), yet The West Coast Pop Art Experimental Band, despite probably enjoying a few trips of the non motoring kind, reflected the times and music scene in their area, and managed to produce some great tunes which, whilst not reaching the dizzy heights of say The Byrds, or Love, still managed to move seamlessly between delicate folk, heady psych rock, and plain bizarre, often in the space of a few tunes. 
The story of the WBPAEB is a weird one! The WCPAEB were three musicians who ended up in California being joined by a wealthy older wannabe pop star who the three original musicians soon tired of, and have distanced themselves from, due to him being an all round unsavoury creep who chased after teenage girls, and who also allegedly managed to rip off the other band members for publishing, although barely wrote anything for the band. Nice! The other three members though, created some of the most intriguing psych rock of that era and in the intervening years since their demise many bands have gone on to cite their music as an influence, Even to this day they divide opinion  as to whether they were genius or no better than many of the garage rock bands around at the time, but the WCPAEB's back catalogue is still heralded by many in the psych rock community as a worthy addition to their collections.
The album 'Part One' opens with 'Shifting Sands' which floats out of the speakers lighter than a Californian coastal breeze, with psych fuelled guitar work nestling on top of harmonious vocals. There's plenty of gorgeous harmonies and folk infused psych across the three albums and extras in this boxset, with songs like 'Transparent Day' and the glistening sun ripened pop of 'Here's Where You Belong' with it's comforting refrains of "yesterday's failure is today's success". Possibly their biggest hit was 'In The Country' with its slide guitars and gentle melodies, yet as tracks like 'Ritual 1' prove they were also masters of psych rock with hypnotic riffs underpinning sublime melodies then there's the likes of  'As The World Rises And Falls' recalling The Beatles at their most folk psych heights. There's also plenty of  truly bizarre tunes designed to send anyone's mind into overdrive, such as their cover of  'Help I'm A Rock' (written by Frank Zappa) yes, it really is supposed to be a rock wishing it was something else! Along with the three albums, there's also 15 previously unreleased tracks on here, most of which are alternative mixes of album tracks and a brilliant acoustic version of 'Watch Yourself'.
Although there were plenty of bands that emerged from the Californian psych scene in the 60s, there's a reason some have risen to greater prominence than others. With the West Coast Pop Art Experimental Band, the combination of playful melodies, balanced with folk rock and sometimes heavier guitar riffs has left a legacy of songs which encapsulates the psychedelic 60s spirit, yet still manage to be head and shoulders above many of the bands of that ilk. 'A Door Inside Your Mind – The Complete Reprise Recordings 1966 – 1968''  is a beautifully presented box set which manages to be both an introduction for the curious and also carries enough extras to keep the psych rock enthusiasts entertained too.
The West Coast Pop Art Experimental Band – A Door Inside Your Mind: The Complete Reprise Recordings 1966-1968: Out Now (Cherry Red Recordings)