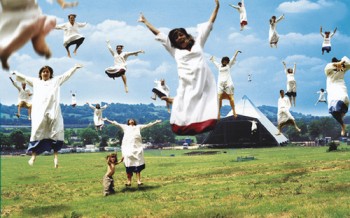 'Yes, It's True'. The Polyphonic Spree return to the UK with a new album and tour dates this summer. The band who captured the imagination of thousands from their first notes at David Bowie's Meltdown in 2002 and went on to take hearts and minds at Glastonbury and on a succession of UK tours have been away from our ears and eyes for some time but have remained a touchstone for all that is innovative, beautiful and downright different in the music scene.
The first album from the band in five years, follows Tim's diversion into recording with former Tripping Daisy bandmate and ex Secret Machines man Philip E Karnats as Preteen Zenith alongside a revamp for his Good Records Recordings label.
If, at first sight, The Polyphonic Spree were defined by their robes and the sheer size of their travelling carnival, now, over a decade since the release of that debut album, 'The Beginning Stages Of', with a host of tv appearances, three studio albums and countless festival and touring performances under their belt, The Polyphonic Spree have made the journey from interesting oddballs to globally respected and renowned musicians and composers. Few contemporary acts can point to having such impact on the musical world as The Polyphonic Spree, whether the patronage of Bowie or the ability to tackle a new version of the 'Rocky Horror Picture Show' to glowing reviews in both the UK and the USA.
'Yes, It's True' continues the Spree's musical journey; still focused on the melodies that always set them apart but developed with the use of rhythm programming and additional instrumentation to create an album that flourishes eleven tracks to the listener as though this writing pop songs thing was nothing more than an impulse.
A single from the album, 'You Don't Know Me', will be released on July 29th.
The Polyphonic Spree return to the UK:

4th AUGUST 2013 – CAMP BESTIVAL, DORSET
6th AUGUST 2013 – VILLAGE UNDERGROUD, LONDON
7th SEPTEMBER 2013 – BESTIVAL, THE ISLE OF WIGHT