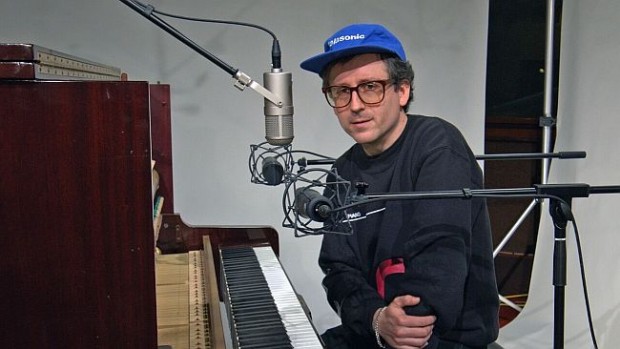 Alexis Taylor appeared on Low Four – Manchester's new online live music platform – performing a series of songs at Old Granada Studios. The show was live-streamed last week, but fans can now watch it back on the Low Four website and via YouTube.
Notably, the Hot Chip vocalist covered a rare Prince song "Old Friends For Sale." "The song was recorded originally by Prince in 1985 for potential inclusion on the album Parade," explains Alexis. "It remained unreleased until around the late '90s when he changed the lyrics and re-recorded an inferior version which was much more tame lyrically. My cover is of the original unreleased version which has circulated on bootlegs since the late '80s."
Alexis Taylor also performed the Hot Chip song "So Much Further To Go" and covered "I Look To You" by Whitney Houston on the Low Four piano. His latest album is simply called Piano and is out now on Moshi Moshi.
About Low Four
Low Four is a new online music platform, studio and event space based at the iconic Old Granada Studios in central Manchester. The multifaceted project will add to the building's musical legacy – which includes TV debuts from The Beatles, Little Richard, Gene Vincent and The Sex Pistols – by hosting, streaming and archiving its own television-style, online music programming. So far, they have featured live performances from Everything Everything, the Mercury Prize-nominated jazz trio GoGo Penguin, NZCA LINES, in addition to Alexis Taylor.
Future live shows are confirmed with Aldous RH (9PM on Saturday 9th July) and Weaves (1PM on Wednesday 20th July).
Low Four boasts a six camera, Ultra High Definition video system, and the inclusion of an audience viewing balcony means that these recordings (along with other special events, concerts and parties) are open to members of the public.
Constructed in 1956 and last refurbished in 1979, the studio's live room, with its generous five-metre high ceiling, was acoustically reinforced to deliver an exceptional recording environment but was left unused since ITV moved to MediaCity in 2013. Originally a recording and dubbing studio, it birthed countless seminal television and film soundtracks: Brideshead Revisited, Jewel In The Crown and Sherlock Holmes, to name just a few.
Alexis Taylor Official | Twitter
Low Four Studios Official | Twitter | Instagram