From time to time, one of our contributors will recommend an artist/band they think deserves to be brought to your attention. No record labels, PR companies, bands or band's management will ever have made these recommendations. It is simply one music fan putting their taste on the line in the hope of sharing good music. The questions are intended to give just a basic introduction to possibly your new favourite artist/band.
So without further ado, let's crack on with another introduction, in which Silent Radio's Vic Turnbull recommends The Minx for your audible delectation.
*****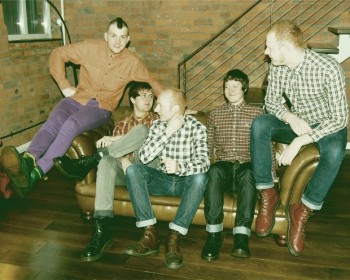 Who are ya?
We're five friends collectively known as The Minx. Chris Haddon – Vox/Guitar, Paul Robinson – Guitar, Kieran McIntyre – Keys, Chucky Stuttard – Bass, Andy Evans – Drums.
Where are you from?
We all grew up in Wythenshawe, south of Manchester, with the exception to Paul (guitarist) who's Stockport born and bred.
How long have you been doing what you're doing now?
It's coming up to two and a half years now. We decided to give it a proper go on New Years Eve 2009. It's gone well ever since!
Is being a musician your full time job?
Not officially. We're a working class band, we all hold down a job of some sort to keep us going. It's impossible to not do so? I think most young up and coming bands that say it's their full time job are either liars or have a rich mummy and daddy.
How would you explain your sound to someone's 90 year old grandmother?
Frank Sinatra meets Joe Strummer, with a good back beat.
Are there any obvious influences in your music?
We're heavily influenced by a lot of Reggae, Soul and Punk. Culture is a big influence on us and I'm sure there's a teeny bit of Mancunia rubbing off on us as well. Really just everyday life.

Are there any not so obvious influences in your music?
Dare we say it.. Pop? We love a good pop tune. That and Kieran's love of Die Hard and Christmas.
Apart from yourself of course, what other band/artist would you recommend our readers check out?
There's some cracking new bands coming through at the moment.. The Lottery Winners, Milk Maid, Dirty North to name just a few! As well as some a little more established.. Two Wounded Birds, Wavves, The Heartbreaks?
Best place for people to find out what you are up to?
Searching 'The Minx Band' on Facebook and Twitter is the best bet. That's where we are most active. www.facebook.com/TheMinxBand – Twitter – @TheMinxBand.
Anything to declare?
Our debut 3 track single is out NOW on iTunes/Amazon/Play.com. Buy it!
http://itunes.apple.com/gb/album/no-friends-single/id537221920