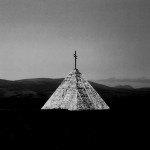 Timber Timbre have released a new video for album track 'Black Water', featuring atmospheric aquatic images reminiscent of the projections in Timber Timbre's live show.
Album title track 'Creep On Creepin' On' is also the new single and is available on digital download through Full Time Hobby.
Featuring core members and multi instrumentalists Taylor Kirk, Mika Posen and Simon Trottier, the new single was produced by Timber Timbre and engineered by Kees Dekker at The Treatment Room in Montreal inside a converted church studio with Grammy winner Mark Lawson as part of the album sessions.
Following on from a sold-out show at London's ICA last April, Timber Timbre return to the UK later this year to perform at the Union Chapel in London on 1st November 2011.