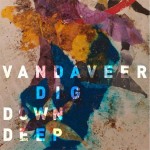 Vandaveer is the song-singing, record-making, globetrotting project penned and put forth by alt-folk tunesmith Mark Charles Heidinger. What started as a solo side project for Heidinger in 2007 blossomed into something more dimensional a year later, with Rose Guerin adding new color to Vandaveer's sound. The two were integral members of DC's Federal Reserve collective, a ramshackle group of folk & not-so-folk types alike curating monthly musical happenings throughout the DC area. Informal collaborations in that environment soon galvanized, with Guerin's voice becoming a reliable fixture in Vandaveer, both on record and on stage. The band has toured regularly on both sides of the Atlantic since, playing over 400 shows.
Vandaveer's third full length, Dig Down Deep, offers churning rhythms, steady guitar and ringing piano beneath tales of war and impermanence, loss and love. The music serves as both mirror and platform for Vandaveer's stories—booming bass drum during moments of turmoil and conquest, throaty cello in moments of peace and predation, trembling keys in moments of uncertainty and hope. Out of the mosaic rise two voices in harmony narrating and navigating the lives of Vandaveer's characters.
Currently available in the US and France, Dig Down Deep will officially be released on 4th July, 2011 in the UK and greater Europe.