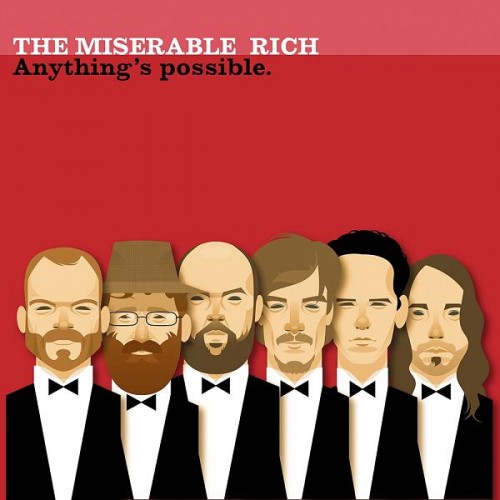 Dubbed as 'the world's foremost purveyors of bar room chamber music', 'Anything's Possible' is the first release taken from The Miserable Rich's upcoming third album 'Miss You in The Days', a swift follow up to last year's 'Flight of Fancy'.
I've been listening to the track on and off for almost a week now, and I just can't connect with the monotonous-ness of this it.  The beginning makes me feel I'm in a low budget 70's horror flick. Maybe the haunting sound to 'Anything's Possible' was inspired by the eerie setting where the band wrote and recorded the new album; the ancestral stately home of Henry VIII's wife Anne Boleyn, and apparently it's one of the 'in' places to be seen if you're a ghost.
I'm a massive fan of bands bringing more than the standard guitar and drums to the table and The Rich haven't disappointed me in the past; beautifully tinkering cello, piano, violin and double bass all up in your grill.
I'm dead keen to hear the rest of the album, and fingers crossed it all doesn't sound like they've been locked up in a massive house over the winter months like Jack, Wendy and Danny.
The band are playing a few gigs in Leicester, London and Manchester (Band On The Wall with Driver Drive Faster in aid of Nordoff Robbins 19th) in July, get on the old MySpace for more http://www.myspace.com/themiserablerich . Their Halloween new album tour sounds ace, love a good excuse to dress up me. Dates to be released soon.