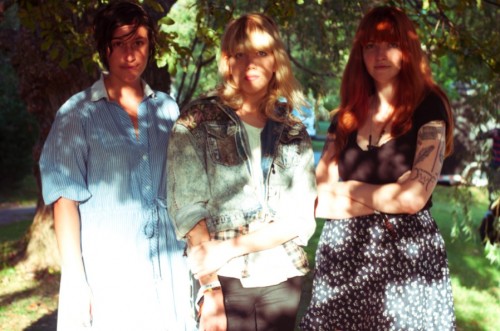 Brooklyn trio Vivian Girls have released a free mp3 'Take It As It Comes' ahead of their imminent UK tour in July.
Taken from their latest album 'Share The Joy', it is available now to download for free via the media player below.
On their third album (and Polyvinyl debut) 'Share The Joy', Vivian Girls continue to sharpen and refine their mix of garage thrash and girl-group pop. 'Share The Joy' was recorded during 2010 at Rear House, the home studio run by Jarvis Taveniere of the Brooklyn combo Woods, who engineered the album.
"It's cleaner and more hi-fi than the previous records," Cassie says of the album recording. "The sound is more open, more free. I think that this album really shows our strengths as musicians, and shows us melding together musically. It's more psychedelic and less shoegaze. There's also a lot of organ on it, which is new for us."
'Share The Joy' has the most diverse batch of songs of any of our albums," Cassie observes. "I feel like these songs are more expansive; a lot of the themes and lyrics are less direct than other albums. These songs focus a lot on the themes of alienation, reconciliation, identity, and trying to figure out what really matters in life. It's a dark album, but unlike our first two albums, it has a happy ending.
"Our music continues to get more and more defined and developed, but it's never going to be completely polished," Cassie asserts, adding, "A thing I like about our band is that we seem to mean different things to different people. Another thing I'm proud of is that, while a lot of people may have initially heard about us through internet buzz and things like that, I think our audience likes our music because it's honest and because we mean it. I think that people can pick up on that.
The UK tour starts in Brighton on the 16th July, culminating in a show at London's XOYO. Here are the full dates:
Tour Dates:
16th July Brighton Coalition
17th July Manchester Ruby Lounge
18th July Glasgow Captain Rest
19th July Leeds Brudenell
20th July Bristol Fleece n Firkin
21st July London XOYO with support from Veronica Falls + Mazes
Tickets are available from www.wegottickets.com, www.seetickets.com and www.ticketweb.co.uk