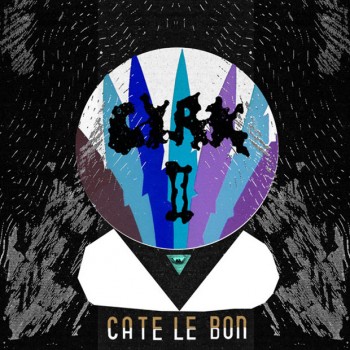 The reviews are in. The second album by silver-plated songstress Cate Le Bon, CYRK, is a bona fide critical hit. The cavalcade of comparisons that crop up in every review – John Cale, Nico, Malkmus et al – give you an idea of the regard in which Le Bon is currently held.
So it's with great pleasure that we can announce the Welsh artist is releasing CYRK II (Ovni / Turnstile) on 20th August. During the CYRK sessions, back at the dawn of 2011, a grand total of 15 songs were recorded. As they began to form as finished articles they naturally pooled into two camps. Whilst CYRK bounds around erratically and unknowingly like a younger sibling, CYRK II is its older sister, bearing songs of a more starkly confessional nature. Although there is a longing and sadness that litters CYRK II, it never truly realises itself, often hiding in the forest of lyrics and interrupting instrumentation when on the cusp of revealing too much.
CLB ended 2011 with a 2 month stint supporting America's finest guitar destroyer Annie Clark, aka St. Vincent. More recently she toured UK and Europe with Perfume Genius who invited her on tour after hearing CYRK. Her time on the road fostered a confidence and assuredness that is evident in Le Bon's stage presence: with dead-eye stares, guitars held aloft, and the kind of voice that could sink an iceberg.
Cate will play these upcoming live shows in the UK
JULY
06 Brynfest with Gruff Rhys at Royal Festival Hall
07 London, Shepherds Bush Empire – supporting The Brian Jonestown Massacre
08 Manchester Ritz w BJM
09 Birmingham Academy w BJM
13 Latitude Festival
22 Cornwall, Port Elliot Festival
AUGUST
17-19 Green Man Festival
SEPTEMBER – UK HEADLINE TOUR TICKETS ON SALE NOW
6th – Leaf, Liverpool
7th – Brudenell Social Club, Leeds
8th – Captains Rest, Glasgow
10th – Cluny, Newcastle
11th – Telford's Warehouse, Chester
12th – XOYO, London
13th – Hare & Hounds, Birmingham
15th – The Parrot, Carmarthen